The translation of any language is the act of converting one language to another to retain the original message. It is used to better facilitate communication. Not everyone speaks all languages and this is where translation comes in as a lifesaver. The act of translating any piece of work or literature is quite tricky as the aim of translation is to extract the meaning of the text without changing it. It is like restoring a painting without altering it.
In today's world, we have translation apps, rather than people that do the work for you. This makes interactions between people of different countries and nationalities very easy. Whether you are a traveler or a professional on a work trip, translation apps are a must to avoid miscommunication.
It is extremely troublesome and expensive to hire a translator for tasks like translating a piece of text or translating a conversation between people. To avoid confusion it is better to use an app. We have assembled a list of ten best online and offline translation apps.
---
Here is the List of Best Offline Translator Apps for Android and iOS
Google Translate
iTranslate
Microsoft Translator
Babylon Translator
Papago AI
Waygo
Triplingo
Dict.cc Dictionary
Reverso
Abby TextGrabber
---
Best Offline & Online Translating Apps
Here are the Best Translating Apps which Work Offline and Online. Though the apps Work Best with Internet Some of them do Work Offline.
1. Google Translate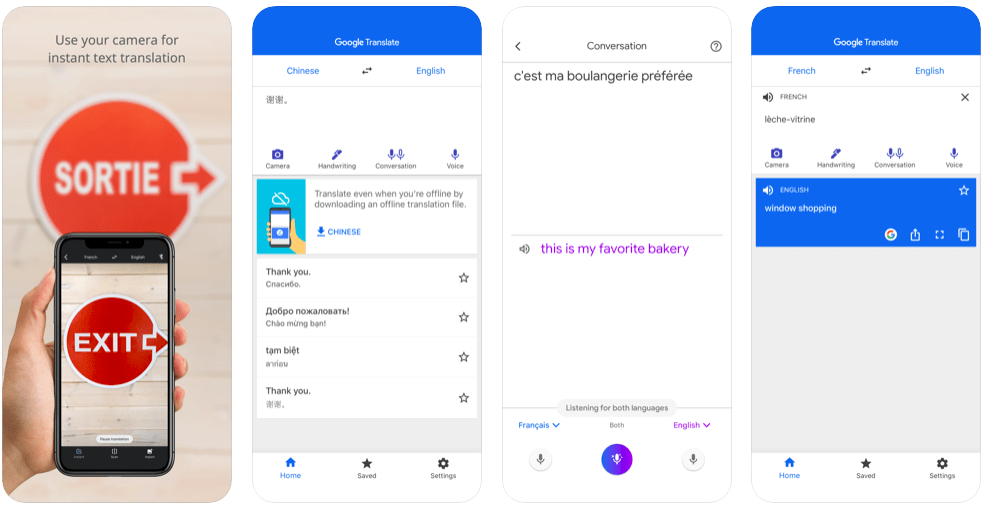 Google translate takes the cake when it comes to the best translation app for both online and offline access. Google Translate was launched in 2006, which makes it one of the oldest language translating apps available. It supports over 109 languages and also provides text, handwriting, conversation, camera, and photo translations.
It also has a phrasebook where users can save translated words for future reference. It further has speech and document translation. Google Translate translates bilingual conversations seamlessly which makes it much more awesome! It stands apart from other apps because it is free to use and easy to access. It can be used without an internet connection provided the languages are already downloaded.
Also, the Word lens feature is the star of the show! Just capture an image of a poster or a street sign and see the magic happen. Overall, all features of the Google Translate app are the best compared to other apps of the same category, and anyone looking for a translation app must give this one a try.
Android | iOS | Offline & Online
2. iTranslate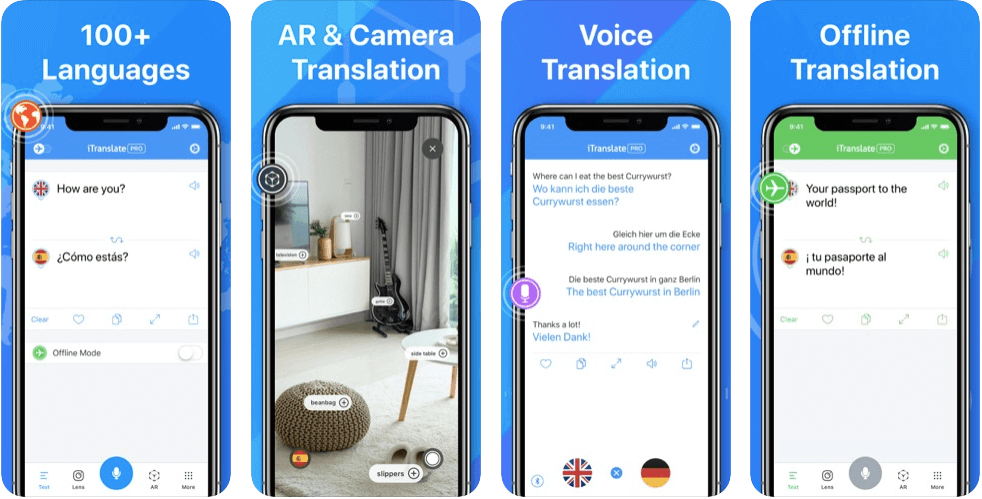 iTranslate like other translation apps offers traditional text translation and also translation of the speech, it also allows users to choose between male and female voices to say the translations.
Switching between different dialects can also be done skillfully. It provides offline translations of 40 languages. It helps users with verb conjugations and also provides transliterations. The fact that it provides offline assistance is remarkable.
It is available for almost all platforms and devices which include iOS, Android, Bixby, web app. Although not developed by Apple it deceives users to believe that it is from Apple. It is also available as an app on the apple watch.
Android | iOS | Offline & Online
3. Microsoft Translator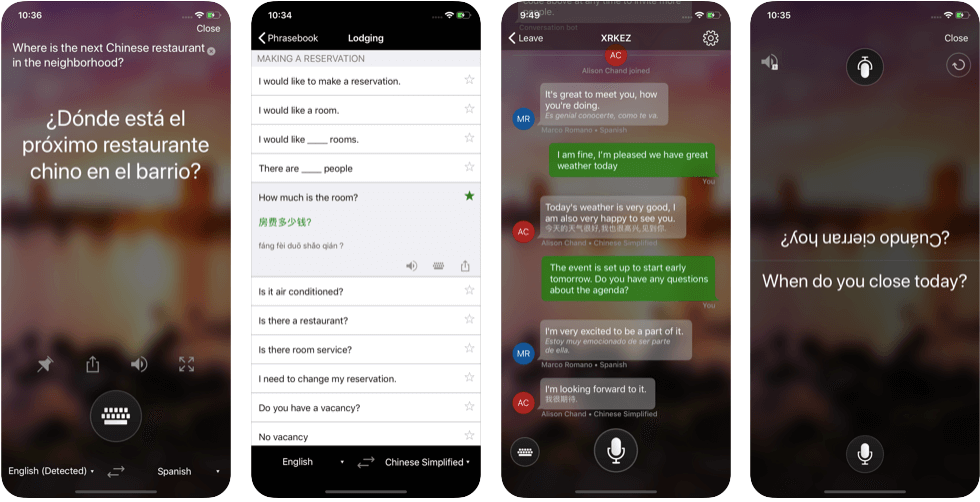 The Microsoft Translator is a translator platform that is supported on android, iOS, and windows too. It supports 73 languages and 11 speech translations currently. Like Google Translate, the Microsoft Translator also works for translating text, images, and voice conversations.
The fact that it has a commercial version for businesses makes it much more versatile. Offline use of this app is possible if the languages are downloaded beforehand.
It has Cortana integration too which makes the app so much more interactive. It also allows users to write with a stylus or mouse through Windows Ink. It also comes with a phrasebook and users can moreover get help from verified pronunciation guides to learn the right usage of words and phrases.
Android | iOS | Offline & Online
4. Babylon Translator
Babylon Translator is a dictionary + translation app. Get offline results, with no need for an internet connection. Its approach to translation is unique in itself with it providing dictionary results and meanings. It is developed by Babylon who is a pioneer in the world of translation software. The translation is as easy as clicking on a word and seeing its meaning instantly.
It can translate to multiple languages all at once without any difficulty. It is an extraordinary app that is totally free although having access to an internet connection is compulsory for this.
Android | iOS | Offline & Online
5. Papago AI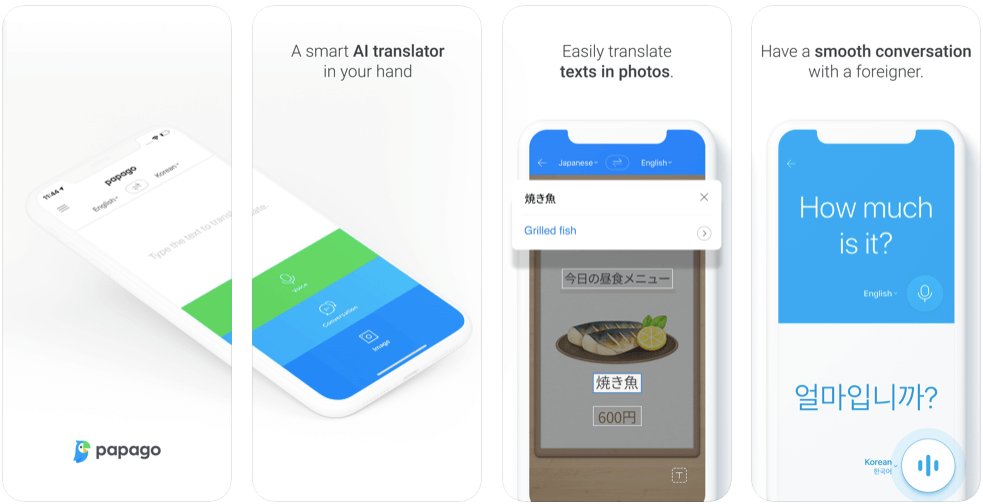 Papago, also known as Naver Papago is a translation app from Korea. It is powered by Naver which is a search engine in Korea and supports 13 languages. It is an AI translator that gets better with each use. Papago which means parrot which is the app's mascot symbolizes the ability of the app to help users talk freely.
It works on handwriting too. The app has a very attractive user interface which is a bonus. It can be used offline as well which is a win-win for everyone!
Android | iOS | Offline & Online
6. Waygo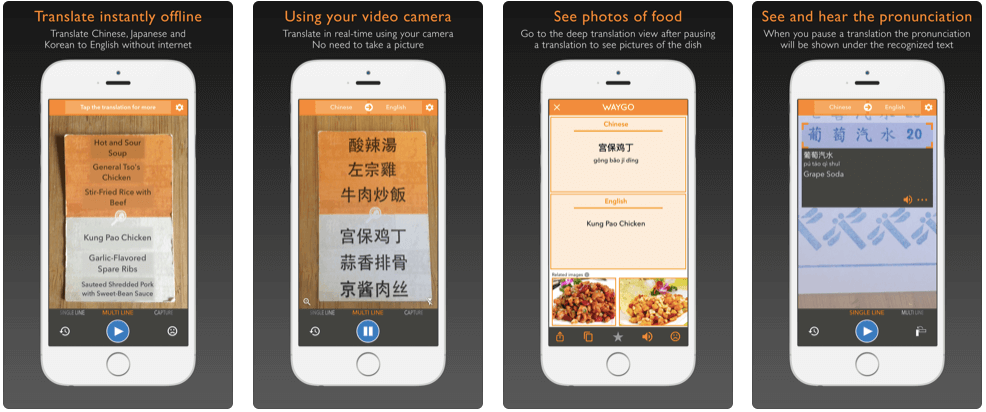 Waygo is an app that translates Chinese, Japanese, and Korean rapidly. It is focussed on translating signs and restaurant menus. Although it is only available in 3 languages, it works accurately. It incorporates OCR (Optical Character Recognition) with machine translation to form a great app. It has its own algorithm which seems to work perfectly.
It has an outstanding feature where the app shows the pictures of the dishes of the menu along with the translation. It is geared towards ex-pats, businessmen, and professionals who often travel for work. It is an award-winning app that revolutionized the translation for Asian dialects.
Anyone who is looking for an app that aids them in breaking the language barrier of Asia must use this unique app.
iOS | Offline
7. Triplingo
Triplingo is not just a translation app, it is also a travel app. It is a super-efficient app for all travel enthusiasts. It is known best for its translation feature.
It helps users adjust to the local customs and language. It provides users with a comprehensive list of phrases used regularly. It has a voice translator. It translates text, voice and images to the user's native language for better understanding.
Its inbuilt dictionary has a collection of more than 10,000 words. This app is quite impressive and claims to help users walk and talk like a local no matter where they are. Its safety features are great and no traveler should miss this app.
8. Dict.cc Dictionary
Dict.cc is a dictionary app for over 50 languages. It works for only words and phrases and not sentences but works quite well for a free app. The premium version has a complete collection of languages while the free version only has a limited range of languages.
This app has a special function of a vocabulary trainer who helps users learn new languages handily. It also allows users to add new terms and entries to their website. It's the user-friendly interface that is making it popular rapidly.
Android | iOS | Offline & Online
9. Reverso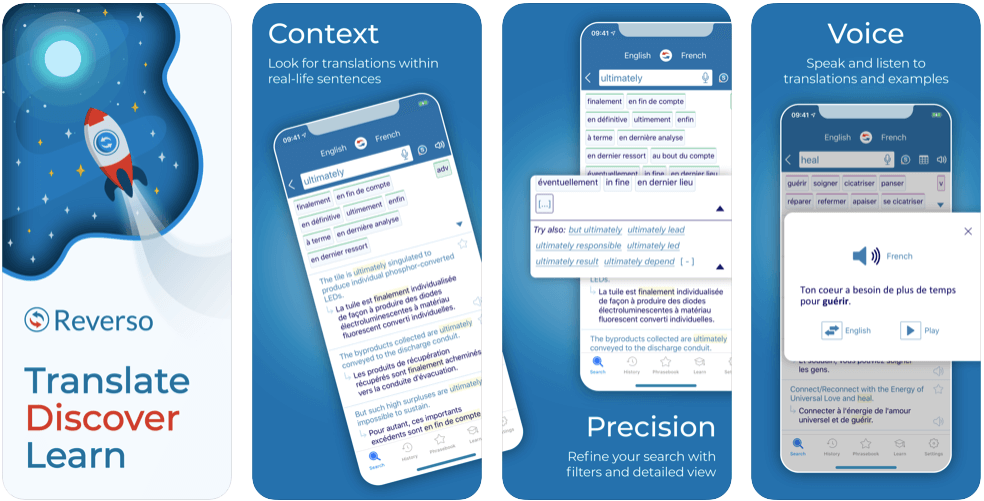 The Reverso app follows a different method of translation and learning new languages. It has games, quizzes, and flashcards based on the user's search history. Not only does it provide the meaning of words and translates texts but also the context of the words/ phrases.
It provides synonyms, analogies, and the context of various languages. It follows the spaced repetition learning strategy to help users learn quickly and effectively. It also helps users with grammar and verbs for translation and understanding of different languages.
Users are offered several examples of the words or phrases that have been searched by the user. It has samples of audio notes recorded by professionals that help users learn the correct pronunciation of words.
Android | iOS | Offline & Online
10. Abby TextGrabber
Abby TextGrabber is an optical character recognition app that also works as a translation app. It offers 60 languages that it recognizes and translates. What it does is look for texts in images and pictures and then translates it using its built-in dictionary. It also works for street signs and such.
It even works on manuals, catalogs, and menu cards. Translation has never been as easy as pointing your camera towards something that confuses you! Users don't even have to click a photograph for the app to translate as the translation shows up on the screen.
It works offline without a hitch and even allows users to edit, share, and save the text. So not only can users digitize any information but also translate it. Its premium version requires a one-time payment and then allows users to use it forever.
Android | iOS | Offline & Online
Conclusion: These are the top best online and offline translation apps available. All of them do the job effortlessly and try to be accurate. Use the apps if you lack the data access.
If you've any thoughts on Free Language Translating Apps | Offline and Online, then feel free to drop in below comment box. Also, please subscribe to our DigitBin YouTube channel for videos tutorials. Cheers!