Facebook has been porting the disappearing messages feature over to its social media apps lately. First, WhatsApp got the disappearing messages feature, and later, Instagram also received it. However, on Instagram, it was called "Vanish Mode." Back in November, Instagram on its official blog revealed that a new Vanish Mode will allow users to send disappearing messages that will be removed once that has been seen by the recipient or once you leave the chat.
This is a pretty nifty feature, as it helps to keep your chats secure. No previews of the photos that are sent will be available, nor there will be any gaps once the message sent via Vanish Mode is removed. You can enter a private chat mode, where no history of your chats will be kept. Users will be able to send not only text messages, but photos, videos, gifs, etc. in Vanish Mode. With that said, let us take a look at the steps that you need to follow in order to use this new feature on Instagram.
Steps To Use Vanish Mode on Instagram
If you also want to start a private chat with your loved one without leaving a trace behind on Instagram, then you would be pretty eager to know how you can make use of Vanish Mode on Instagram. In this post, we will give you all the information on how you can use Vanish Mode in Instagram DM. To give you a brief intro both parties need to enable the new feature.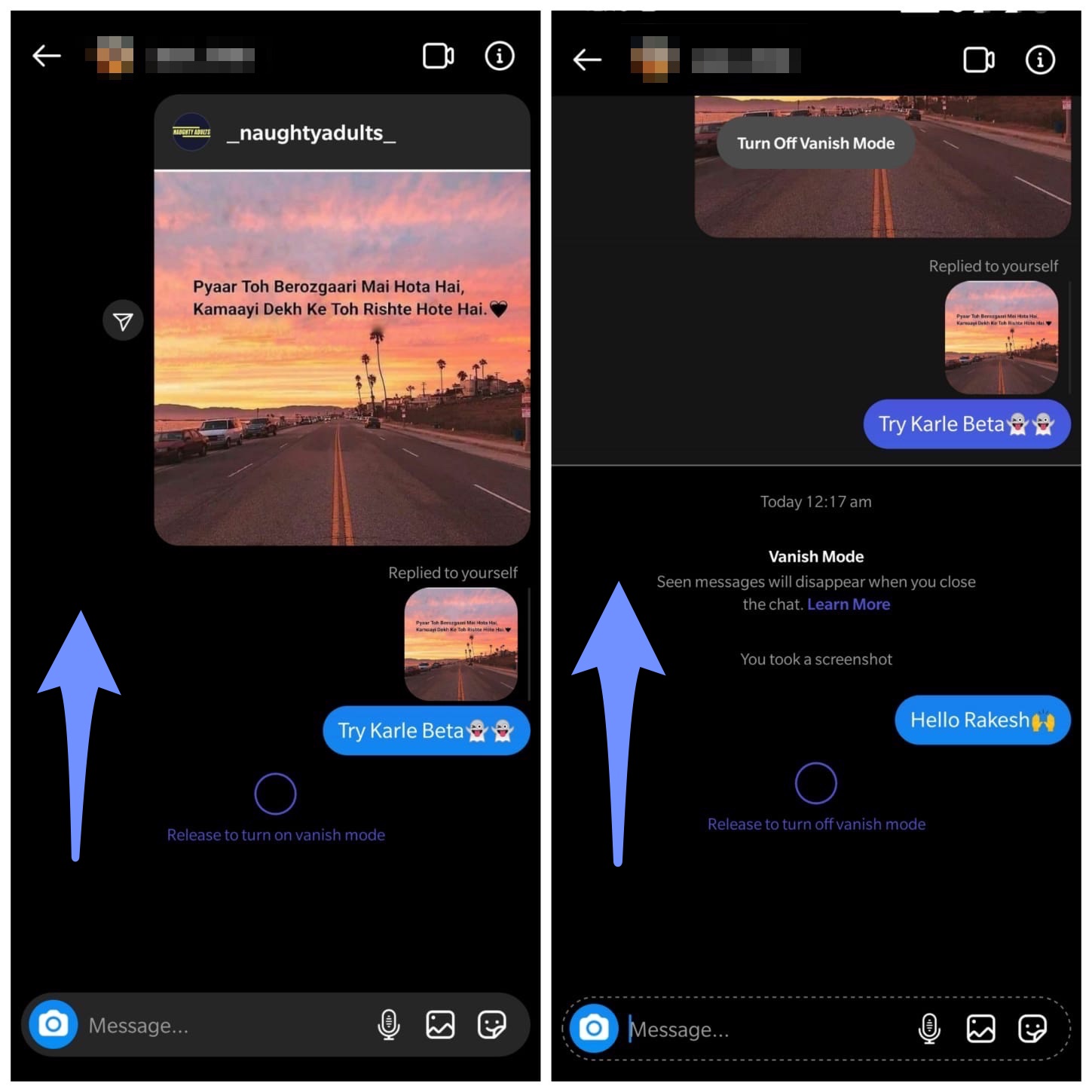 Firstly, open the Instagram app.
Open any chat window that you want to start off the Vanish Mode chatting with.
From the bottom of the screen, Swipe Up to Enable Vanish Mode.
Once the Vanish Mode feature is enabled, Instagram or Messenger will clearly mention Vanish mode in the chat window.
Your screen will turn completely black, like the "incognito" mode.
Now, you can send memes, GIFs, stickers, or reactions and also express yourself without worrying about getting cornered about it in the future.
Vanish Mode has been developed by Facebook keeping in mind the safety and security concerns of the users. Notably, Vanish Mode can be used only by the people you are connected within the chat. Moreover, Vanish Mode is also opt-in, meaning that you and the other person only decide whether or not you want to enter Vanish Mode. Additionally, if someone takes a screenshot of your chats in Vanish Mode, then you will be notified about it. You can block someone and report a chat if you feel unsafe.
All the key features will be first explained to you when you swipe up to enable the Vanish Mode on Instagram that includes key features, along with more details on blocking and reporting. So, you do not need to worry about how you can make use of this feature. So, there you have it from my side in this post. I hope you liked this one. Until the next post…Cheers!
If you've any thoughts on How to Use Vanish Mode in Instagram DM?, then feel free to drop in below comment box. Also, please subscribe to our DigitBin YouTube channel for videos tutorials. Cheers!