While using Instagram, have you come across a message stating "We've detected automated behaviour on your account"? In this guide, I have explained what this warning message means. Also, I have shared troubleshooting tips to help you fix it.
If you log in to your Instagram profile through third-party tools or apps, you are most likely to get this message suspected of automated Behaviour on your account. Strangely, there have been reports of users getting the same warning notification even when they don't have a third-party app connected to their Instagram.
Users who have not linked any other unofficial app to their account may be using an older build of Instagram. This can cause bug issues and other technical errors. Maybe it's just a random problem showing up out of nowhere.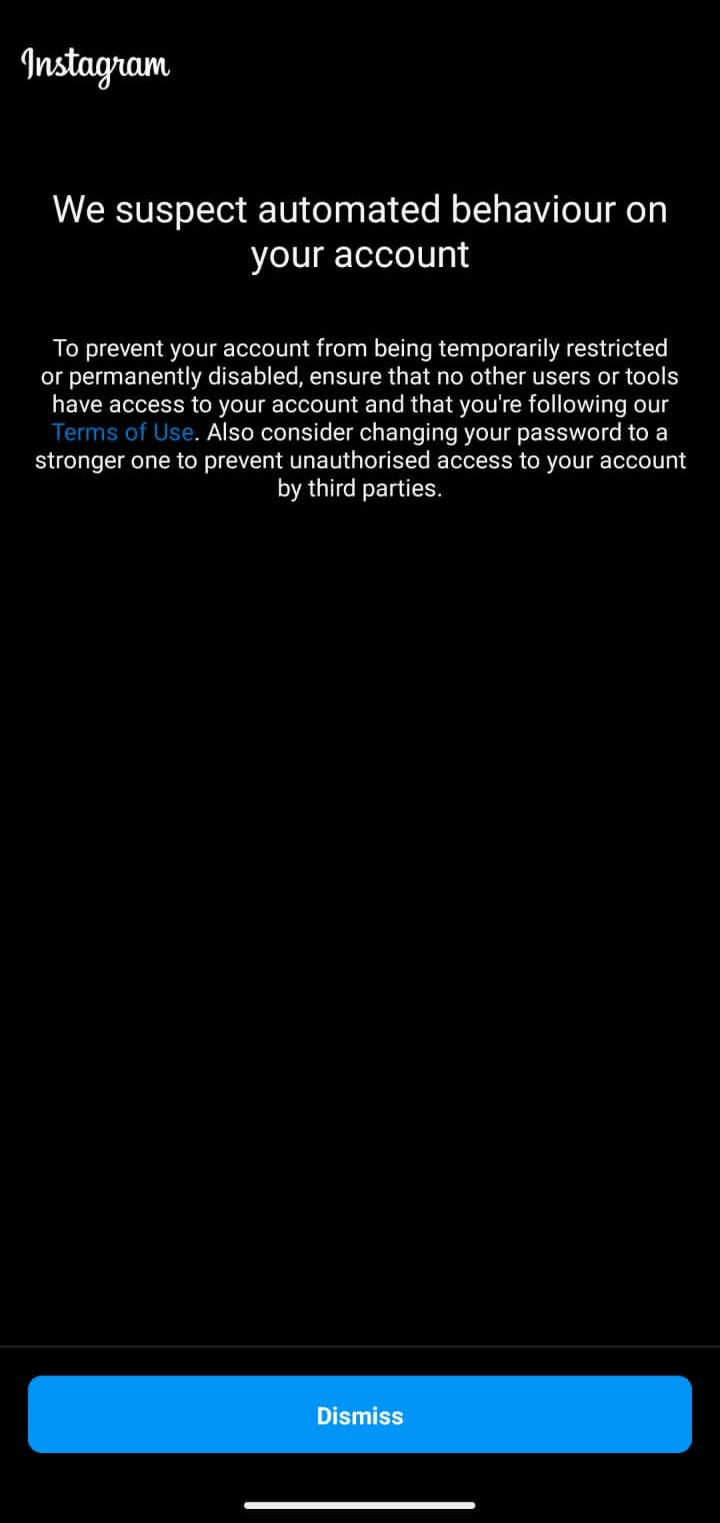 Tips to Fix "We Suspect Automated Behaviour" Message on Instagram
Implement these fixes to solve the suspected Automated Behavior Message on the Instagram account.
1. Remove Access to Third-Party Apps
Do not allow tools from untrusted sources and third-party apps to gain access to your Instagram profile. They may control activities on your account or automate it.
Such modifications are not allowed on the Instagram platform. This is one primary reason why you faced the "We've detected automated Behaviour on your account" message.
Remove all the apps or websites that you have linked to your Instagram account by following these steps.
Open Instagram and tap the profile tab at the bottom right corner.
Tap the sandwich button at the top right corner.
From the menu tap on Settings and Privacy.


Scroll to Website Permissions under Your app and media.
Tap on Apps and Websites.
Under the Active tab, you will find apps and websites connected to your Instagram account.
Tap on Remove to de-link those third-party apps from your profile.

2. Update Instagram
If you have not authorized or connected any apps or tools to your Instagram account, but are still seeing the "We've detected automated Behaviour on your account" message, try updating your Instagram app. It may be an older version of Instagram that has some bug causing this error to appear.
Open Play Store.
Tap the Gmail avatar at the top-right corner.
Go to Manage Apps and Device > Tap on Updates Available.

Scroll down and check if Instagram has a new update available.
Tap on Update to install the new version of Instagram.

3. Force Close Instagram
Try to force close your Instagram and launch again. Check if it can solve the "automated Behaviour suspected" message.
Swipe up on your device to launch the Recent apps.
Scroll to the Instagram app card and swipe it up to close it.
Wait for a few seconds and launch Instagram from the app drawer.

4. Limit Your Activities on Instagram
If you had previously linked third-party apps to your Instagram account and removed them, I suggest limiting your activities as well, not for too long but at least for a couple of days.
This means do not send profile follow requests or series of direct messages to anyone randomly. Also, do not comment rigorously on multiple profiles. Avoid sharing any links through direct messages.
In case you wondering why that's required, your account was recently connected to a third-party website/app. Due to this, it was under Instagram's bot activity scanner.
So, any manual activity like commenting repeatedly, mass messaging links, or sending random follow requests to private accounts may cause Instagram to flag your account as bot-controlled. Then Instagram may de-authorize your account or limit your activities for a certain period.
5. Avoid Getting Fake Engagement on Your Account
Instagram users trying to gain social media fame and attention often take the shortcut route of purchasing likes and followers for their Instagram profiles. Some websites and apps charge money in exchange for offering mass likes and followers to Instagram users.
Even though you don't directly link your account to these websites or apps offering fake engagement, it can be problematic. When you provide your Instagram account details online on any like/follow generating portal, they may collect and misuse it.
Instagram may probably suspect or confirm you are using bot accounts to generate likes on your posts or using bots as followers. At that point, you may end up getting the "We've detected automated Behaviour on your account" message. So, refrain from buying fake likes and followers on Instagram and stick to organic growth.
6. Contact Instagram Support
When you have not purchased fake engagement or provided access to third-party apps, but keep seeing the "Suspected Automated Behaviour" warning on Instagram, contact Instagram support.
Launch Instagram and open the profile.
Tap the menu button at the top right corner.
From the menu, select Settings and Privacy.
Scroll to Help under More Info and Support.

Tap on Report a Problem > Report Problem without shaking.


Follow the on-screen instructions to submit your complaint.
The Instagram support team will contact you with further statements and a resolution regarding the problem.
Fix Suspected Automated Behaviour Warning on Instagram
Never give access to your Instagram account to any third-party app or website. They can use it for malicious purposes or hack your profile. With the troubleshooting tips that I have shared, you can fix the "Suspected Automated Behaviour" message warning on Instagram.
If you've any thoughts on How to Fix "Suspected Automated Behavior" Message on Instagram?, then feel free to drop in below comment box. Also, please subscribe to our DigitBin YouTube channel for videos tutorials. Cheers!