Instagram has now become a part of our digital lives where we can't live without checking up on whats our friends have to post on their profile. Instagram helps us to share our exotic life with the world, and it is also an inspiring career choice for many millennials. Despite Instagram being so perfect in terms of app operations, it often faces problems with login. Many users, including me, have faced Instagram login errors for the Mobile app pretty frequently.
Such errors are sometimes un-intentional app glitches, while sometimes it is because of a poor internet connection. Since Instagram works on your internet connection, it's important to have steady and good internet if you want to use the app. But sometimes this is not enough, and you might get an error "sorry, there was a problem with your request" on your screen. Most users can't really make any sense of this error, and the best they can do try to log in again. Here are some troubleshooting ways to fix such Instagram login errors.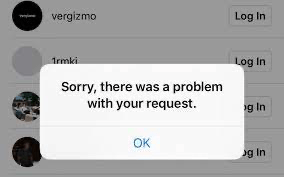 5 Ways to Fix Instagram Login Error for Mobile App
Sometimes, the login errors are usually technical glitches and go away if you try to sign in again. Just make sure your login username and password are correct. For some reason, it doesn't work, then close the app and try again. These methods will work if the app and Instagram server are working correctly. If not, you will get an error "sorry there was a problem with your request" on your screen. Here are some methods to fix the same.
Login Through FB Account
If you have connected your Instagram account with your Facebook, then you can avail yourself of this facility to log in to Instagram via your Facebook account. This is especially useful when you forget your password or facing any issues with traditional Instagram login. In order to use this method, you have to download and install Facebook on your device.
Steps to log in through FB account:
Open the Instagram app on your smartphone.
Go to the login screen and choose to continue with your FB account.

Check Network & Devices
Sometimes the sole reason why Instagram login is not working correctly is because of network issues. So try to refresh your network connection. If you use a personal Wifi router, then restart the router for a good internet connection. You can turn off cellular data for your mobile device and turn it on again to ensure proper network connection.
Use App Cloner
The Instagram app you are using might got corrupt or facing technical glitches. Many smartphones, including Realme, Samsung, and Xiaomi, offer users to have dual social apps. Here is a walkthrough of how you can use app cloner to get a new Instagram app on your device.
Steps to use App cloner:
Open device settings and navigate to app cloner/parallel apps.

Click on Instagram to start the cloning process.

Checkmark to create a clone app.


Now you can open the clone version of Instagram and try to log in there.
Note: Such app cloning services are not available for iPhones or iPads.
Update Instagram app
Social media apps such as Facebook, Instagram gets a constant update to make sure their users are getting the next experience as possible. Not only just bugs fixes, but new updates also bring new features to the app. So make sure to update your Instagram app to the latest version.
Steps to update the Instagram app:
Open Playstore on your smartphone.
Click on your account at the top right corner. Tap on the "Manage apps & device" option.

Click on update all to update all apps including Instagram. You can also update the Instagram app individually.

Log in from a different device
The problem is just in your device, and maybe it's because your device is not able to parse the network properly. So to cross-check this, you can try to log in from your friend's device or use a secondary device if possible. If the login is successful on a different device, then it signifies that Instagram is working perfectly. If this is the case, reset your smartphone to get rid of any minor issues which are creating Instagram login problems.
Conclusion
As you see these login errors on the Instagram app are very easy to fix. In most cases, the problem is due to bad network problems. Sometimes Instagram servers can also get slow or face downtime. So if the issue is not solved yet, you can wait for 10-20 minutes and try to log in again, I'm sure it will work. In case you face any difficulty with the above steps, feel free to comment down below.
If you've any thoughts on How to Fix Instagram Login Error for Mobile App?, then feel free to drop in below comment box. Also, please subscribe to our DigitBin YouTube channel for videos tutorials. Cheers!