The Instagram app has been reported to be malfunctioning on Twitter over the past few days. A "network error" occurs when people attempt to log into the Instagram app, preventing them from stay logging in. Other people are reporting that they are unable to access their accounts after multiple attempts to log in.
While some received a message that says: "Error. Sorry, something went wrong. Please try again", many say they can still not log in. There have been reports of Instagram login issues in different countries. But, nothing to worry about as we have some workaround to resolve the random logging out of the Instagram account.
Why does Instagram Say You've Been Logged Out?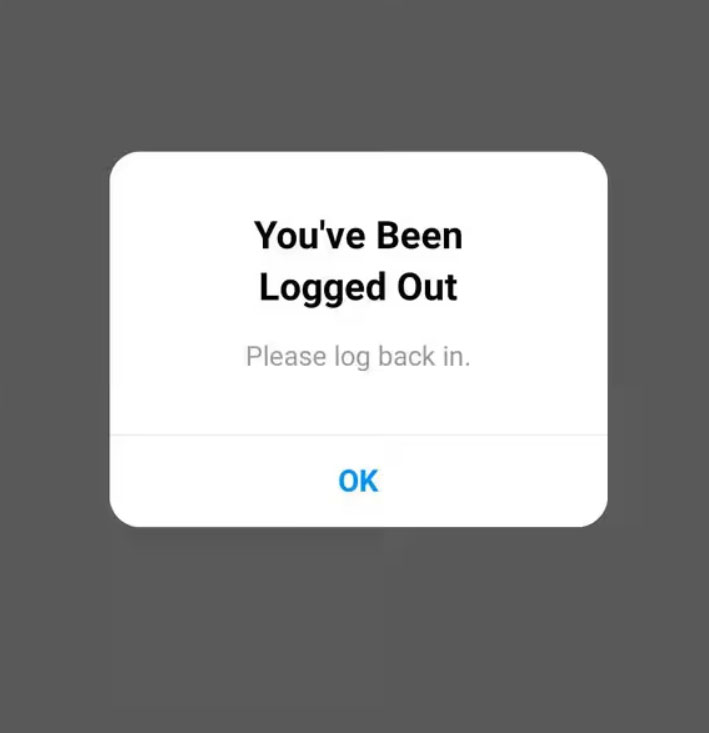 You may be logged out of your Instagram account for several reasons. If you encounter this issue on your device, you should remember these reasons so that you can address them. As discussed earlier, the situation may not be under your control if Instagram bugs cause the problem.
The only thing left to do now is to wait until the bug is fixed before using Instagram again. There may be a reason why Instagram keeps logging out just because multiple accounts are connected to one app. You can log out of other accounts if you want to keep your Instagram account stable.
You may have changed your Instagram password on another device without updating the one you are currently using on Instagram. In this case, Instagram might not function properly.
Best Ways to Fix Instagram Logging Out Issues on Android & iPhone
Since Instagram added the business account feature to the settings, many businesses are eager to use it to boost their business. Instagram accounts are clearly important for individuals, so it is evident how important they can be. So, fixing the randomly logging out of the Instagram account is very crucial, and to do so, here are some steps:
Fix 1: Clear Instagram Cache
In mobile devices, caches are small data files that speed up the performance of apps. Nevertheless, corrupt caches may cause performance issues with your apps. If you are experiencing an "Instagram keeps logging out" issue, try clearing the Instagram cache on your devices. Here's how to do it:
For iOS:
On your Apple device, go to Settings and select General.

Click the iPhone Storage icon.
To clear your Instagram cache, select Instagram from the App list and click Offload App.
For Android:
Tap on the Instagram app.
Go to Info.
Click on the Clear Data.
Then, hit the Clear Cache button.
You can then again log into your Instagram account using your data once again. As a result, Instagram should no longer log you out from their platform after doing this.
Fix 2: Restart your Device
The Instagram issue may be caused by overloading your device, which could cause problems with the app's system. However, suppose the random logging out of the Instagram account is caused by overloading your device; restarting your device will help resolve the issue.
Fix 3: Update Instagram App
One of the reasons why software continually receives updates is to fix bugs for various reasons. You may be logged out of your Instagram account unnecessarily, and the performance of the app may be affected if your Instagram app version contains bugs.
For this reason, you should check Google Play or the App Store for Instagram updates and download them. You will be able to use the app more effectively when you do this. This will help you fix the bug.
For Android:
To download, go to the Google Play Store.
On your screen, click the profile icon.
Then select Manage apps & devices.
Locate Instagram on the app list and click Update.
For iOS:
On your iOS device, open the App Store.
Tap on the profile icon.
On the next screen, scroll down to Instagram and click Update. Then, open Instagram and log in once the Update has been completed.
Fix 4: Disable VPN
It is possible for Instagram to log out users who use VPNs while using their mobile devices. If you're having trouble logging out of Instagram, try disconnecting the VPN service on your device.
Fix 5: Use Only One Account With The Instagram App
The Instagram app may kick you out if you have multiple accounts. This may be considered an unusual sign by the app. You can, however, link your main Instagram account to your phone and access the other accounts from your computer if you use the Instagram app on your phone. Trying this solution might also help fix the random logging out of Instagram.
Fix 6: Log in With Your New Password
You may get this error because the passwords may have been updated elsewhere or in a web browser without updating them in the Instagram app. As a result, Instagram will continue to log you out. The problem should be resolved by logging into Instagram with your new password.
Fix 7: Remove Third-Party Apps
When Instagram bots detect unusual behavior, they tend to be suspicious. Therefore, you might get kicked out if you have linked your Instagram account to a third-party app. In this case, you can unlink your Instagram account simply by using your browser. To do so, follow these steps:
Go to the Instagram website and log in.
Go to Instagram Settings.
Then, click Apps and Websites.
When you have found a suspicious app, click the Remove button at the bottom.
If you do this, Instagram will stop treating your account as suspicious and will again allow you to log into your account.
Fix 8: Change your Instagram Password
Your Instagram account may have been accessed using another person's phone. It is possible that you will be kicked off Instagram if the person logs in with their device. In order to avoid the random logging out of the Instagram account problem in the future, you must change your password.
Fix 9: Uninstall and Reinstall Instagram App
You can uninstall your Instagram app instead of updating it. You can fix this problem by updating Instagram on your smartphone and clearing its cache, which will fix Instagram's issues. This is because many users are there who reported that the random logging out from the Instagram issue gets resolved just by reinstalling the app. Therefore, you should try this and let us know if it works.
If you've any thoughts on How to Fix Instagram Keeps Logging Out Issue?, then feel free to drop in below comment box. Also, please subscribe to our DigitBin YouTube channel for videos tutorials. Cheers!