Videos are an integral part of the web, they make the content more palatable and appealing. When you search the web, you encounter a number of videos and many times you wish to download the media file. Downloading the embedded video files is very difficult as they are encrypted with high security. There are a number of online websites which claim to assist in downloading the video files from any web page. Also, there are a number of chrome extensions which claim to download videos from all the popular web pages for free.
Most of the sites do not support video download from there platform nor do they support any of the services which let download the video file. But there are a number of video downloader chrome extensions which help you get the embedded videos from many popular sites for free without any complications.
Today in this post I have come up with some of the best Video Downloader Chrome Extensions to save the content offline. The Chrome extensions are a great utility tool which assists and enhance in Chrome productivity. So, without much delay let us look at some of the best Chrome Extensions to Download Videos from any Webpage.
Note: We do not endorse the software nor are we affiliated to it in any form. Use the apps are your own discretion. Please note that DigitBin isn't responsible for media content which you download.
Best Video Downloader Chrome Extensions
Here are the Best Video Downloader Chrome Extensions to Save Video Files from all the Sites and Web Pages.
1. Video Downloader Plus
Initially developed as a native Facebook downloader extension but as the plugin grew in popularity the developers started increasing the scope of sites. Now the Plus supports all the popular streaming sites and videos on any web page. You can download and save videos from almost all websites. Downloader Plus supports multiple video downloads at the same time. The extension can detect and saves any media type with multiple format support. VDP is Easy to use and totally free with.
2. Chrono Download Manager
Chrono can save your time as all the download management is done inside a browser tab. It is tightly integrated with Chrome by context menus, toolbar buttons and key shortcuts. It switches itself in place of default Chrome Downloader. Besides download management, Chrono is also your best video download helper and bulk image downloader.
The Chrono Sniffer detects all links, images, audios and videos on a web page, and you can filter URLs. It runs on Chrome API and works as a complete download manager allowing you to download all the available downloadable files from the web page. Chrono is not available on Web Store but you can download the CRX file and install it manually on to your Chrome Browser.
3. Flash Video Downloader
Flash Video Downloader Chrome extension claims to download videos from 99% of the websites on the net. And in our test, we found the same. Of course, one per cent sites include YouTube and some no-popular video platforms. The extension is quite easy to use. You just need to load the desired web page with the video and then just click on the extension to check for the various resolutions to download from. Hit your choice and boom video in your device storage.
This extension is quite good and can reduce your job of switching between sites to download videos, it can help download videos from all the social media sites including Twitter, Facebook, Instagram etc. You can also download videos from popular VOD and OTT platforms like Amazon Prime, Hotstar, Hulu, Netflix and more. I recommend this Chrome extension heavily for its support for the number of sites and easy to use nature.
4. Addoncrop
Chrome extensions which are available on Chrome Store do not support YouTube Video download. Google doesn't support direct YouTube video download to the system storage. Also, no such software which promotes YouTube Video download is encouraged. Though you get to download the videos offline on the mobile app, it plays natively only on the YouTube app. But there are many 3rd party apps which help you download the videos/audio (mp3) from YouTube directly to the computer storage. YouTube Downloaders are the best utility software available for Chrome Browser to save video and audio files on your device storage.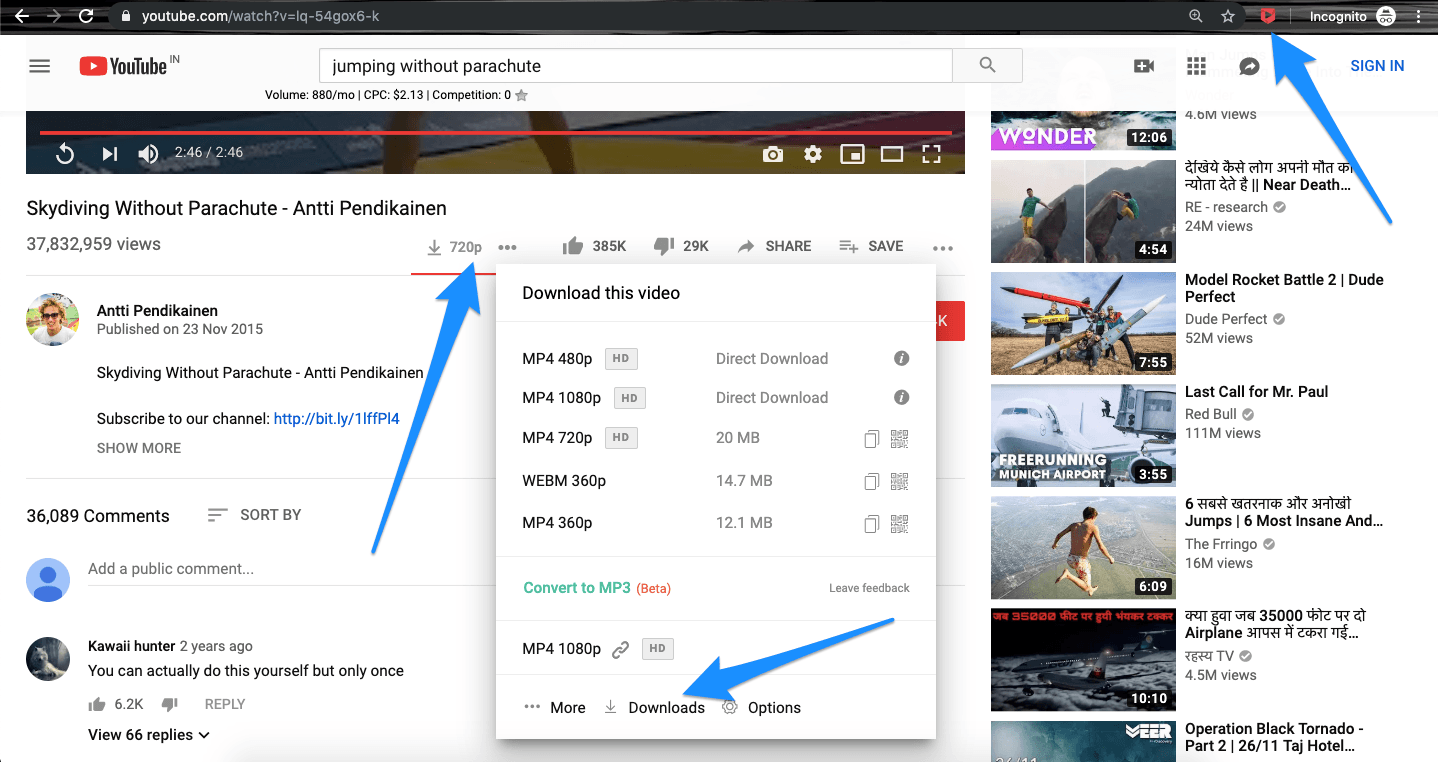 Addoncrop is the best Chrome extension available which allows you to download YouTube videos. It adds a download button to beside the title of the youtube video. You can download videos in 4K, 720P, 480P, 360P, you can also download videos in the mute mode without any Audio. The extension also allows you to download the audio file in Mp3 and WebM format for free. Just with a click. You need to install the addon manually to your chrome. I have provided the detailed steps on installation in the link below.
5. Video Downloader professional
With this extension, you can either download videos from a page or create a playlist. By creating a video list you can get quick access to the videos and you can play them at any time, without having to look for the web page. You can also cast the downloaded video via Chromecast. professional video downloader is one of the popular download manager extensions has a good number of downloads with a high rating.
Download Downloader Professional
6. Video Downloader Plus
Another Video Downloader Plus offered by a different developer. The extension allows you to download MP4, MOV, FLV, WEBM. The extension button in the browser will turn blue if the plugin detects videos files that could be downloaded. The extension can display every available video file and format that we detected. Video Downloader Plus detects multiple formats to downloads. It supports MP4, MOV, AVI, ASF, MPG and many more. Video Downloader Plus downloads almost from 99% of video hosting websites. Video Downloader Plus downloads multiple videos simultaneously. The plugin allows you to skip parts to avoid unwanted content.
7. FastesTube
FastestTube is a Chrome Extension which makes video download simple. Just install the addon manually, open the YT site and you will see the download link. The installation is a little complicated but once added to Chrome the downloader works like charm. When you open a new YouTube video, you'll notice a Download button has been added to the video, which you can click to open a menu that allows you to download videos in both audio and video formats. You can save the video in 360p or 720p in MP4 format. You can also download the audio file only.
You get an ad-blocker and some other features which work little spotty and malfunction a few times. The installation is also shady. But once you get it right the addon works like smoothly without any issues.
Here are simple steps to add the FastestTube to Chrome.
Download and Extract the Zip File.
Now Install the bat file, install.bat
Open chrome://extension in the browser
Enable developers mode
Now drag & drop the fastesttube_xx_xx
The plugin will install and add itself to Chrome. Done!
8. Download Master
Download Master lets you download a media file from a web page. When you right-click on the link you will get two options, select "Download link" if you wish to download the selected file or else you can also select "Download ALL links" if you want to download multiple files located on the page. If the page has a video file than the extension will notify you the same and you can download it directly on your system storage.
9. Video Downloader for Chrome
Video Downloader for Chrome lets you download multiple versions in HD and SD from many popular video websites. It doesn't work for Youtube, due to restrictions of the Google Webstore Policies. Video Downloader for Chrome detects multiple formats to downloads it supports MP4, MOV, AVI, ASF, MPG and other popular formats. It supports simultaneous downloads. The extension button in the browser bar will turn blue if Video Downloader for Chrome detects videos files that can be downloaded. The extension shows every available video file and format that you can save on your PC.
Download Video Down for Chrome
10. Video Downloader for Web
Popular and one of the best Video Downloader in the Web Store. Saves popular media files in multiple formats. Video Downloader for Web allows you to download MP4, MOV, FLV, WEBM. The extension icon will change its colour if it detects any video files that you can download. In the pop-up window is display every available video file and format that video downloader detected. It is a similar video downloader app and works exactly like other downloaders available for Chrome. It doesn't support YouTube.
11. Savefrom Extension
Savefrom is the most popular YouTube Downloader service known to many. It is free to use and pretty easy, it was among the first free youtube downloader services offered online making it one of the most used websites for video download. You can Install Savefrom Extension on your Chrome, and directly enjoy the downloads from the YouTube Page.
1. Add the Chameleon extension from the Google Web Store
2. To be able to use SaveFrom.net Helper on your Google Chrome browser simply add the extension from Opera add-ons
3. SaveFrom.net Helper can now be used from YouTube with a download button.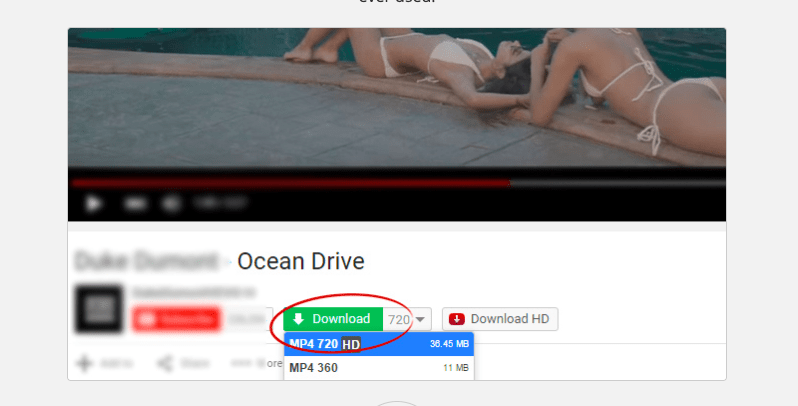 12. GenYouTube Extension
GenYouTube is also available as web browser extensions and add-ons that can directly add the download button below YouTube video. The extensions are available for Google Chrome, Firefox, and Safari browser.
The GenYouTube is available as a chrome extension to generate download YouTube button, however, it needs the support of the third-party extensions called TamperMonkey. You can follow these steps to install GenYouTube on Chrome Extensions.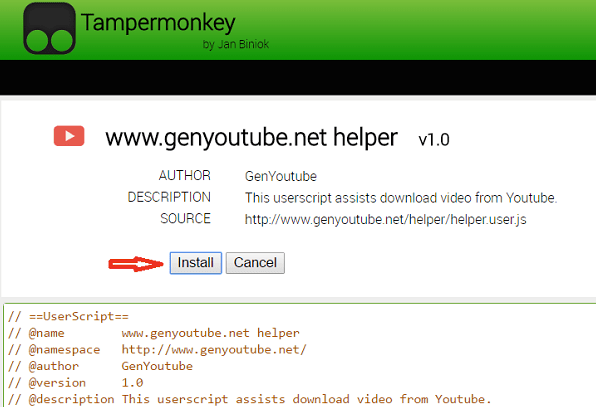 How to Manually Add CRX Extension to Chrome Browser?
Download the CRX file to your computer for the Chrome extension you want to install.
Open your Google Chrome web browser.
Go to chrome://extensions/ and check the box for Developer mode in the top right.
Click on the "Load unpacked" button, and locate the CRX file. And click on the OK button to install that on Chrome.
Conclusion: Chrome is the most popular browser sharing more than 50% of browser space. And the popular extension also supports a number of extensions which enhances the productivity of the browser. Video Downloader Extensions are few such powerful chrome add-ons which can make the load the downloading your favourite videos very easy.
Note: Download the videos for personal use only as videos may have copyrights.
If you've any thoughts on Best Google Chrome Video Downloader Extensions, then feel free to drop in below comment box. Also, please subscribe to our DigitBin YouTube channel for videos tutorials. Cheers!