Due to the lack of physical activity and the fact that the gym is still not among the safest places to visit during these unprecedented times, our fitness routine has taken a toll. However, this is where the workout apps could come in handy.
While some of these apps focus on long-term training, others are mostly inclined towards short-term goals. Along the same lines, there are some on-demand workout apps that you could try based on your convenience.
Likewise, some even offer live workout sessions so that you remain in sync with the trainer. Rounding them up, this write-up is going to cover ten of the best workout apps for your iPhone devices. So without further ado, let's get started.
Free Workout Apps for iPhone
Here are the Best Free Workout Apps for iPhone Mobile to Stay Fit and Complete Exercise Guide
1. Peloton — at home fitness‬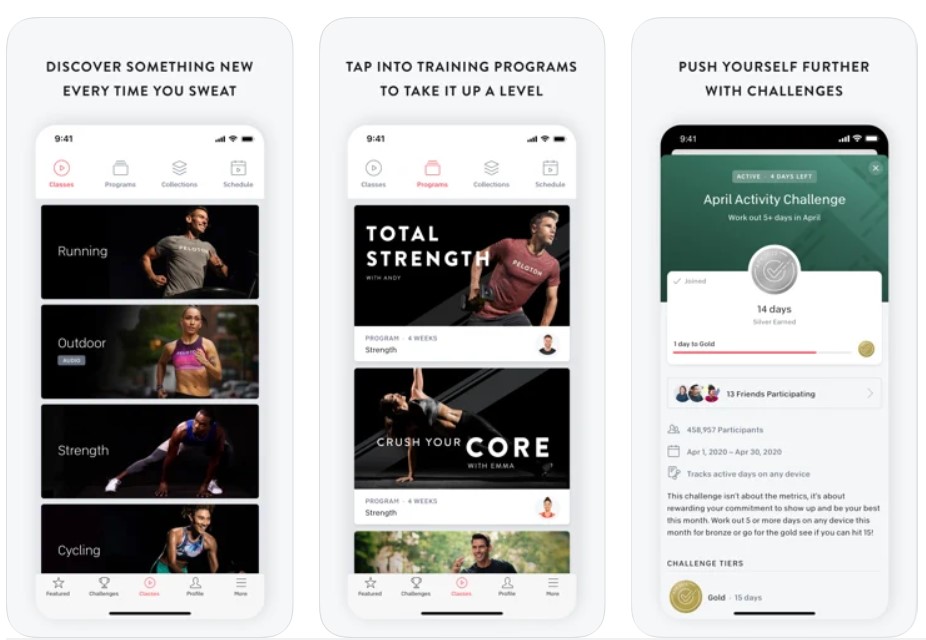 With over 1000 different workout types including the likes of strength, yoga, cycling, meditation among others, this app sits quite comfortably at the top of our list. Moreover, it has both live online as well as scheduled classes.
The app will also throw in monthly challenges to keep you motivated towards your fitness regime. Another pretty nifty feature is the ability to stream your workout session on a bigger screen via AirPlay or Chromecast. Then its integration with Apple Health proves to be the icing on the cake.
2. Nike Training Club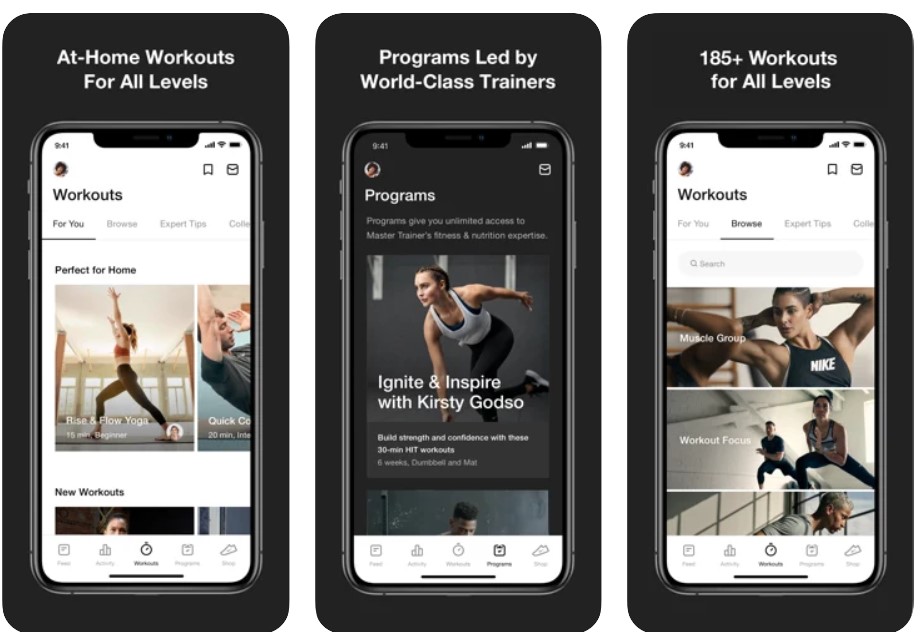 When it comes to fitness and workouts, Nike is probably one brand that doesn't need any introduction of sorts. And it seems to have carried forward its legacy in this segment as well. It's Training Club app has over 180 workouts spread across yoga body-weight, cardio, and the likes.
Its training session lies anywhere between 5 minutes to an hour which has been divided into Beginner, Intermediate and Advanced levels. Furthermore, you could also connect the app with your Apple watch which would allow you to shuffle between sessions and keep a track of your heartbeat as well as the calories burned.
3. Fitbit Coach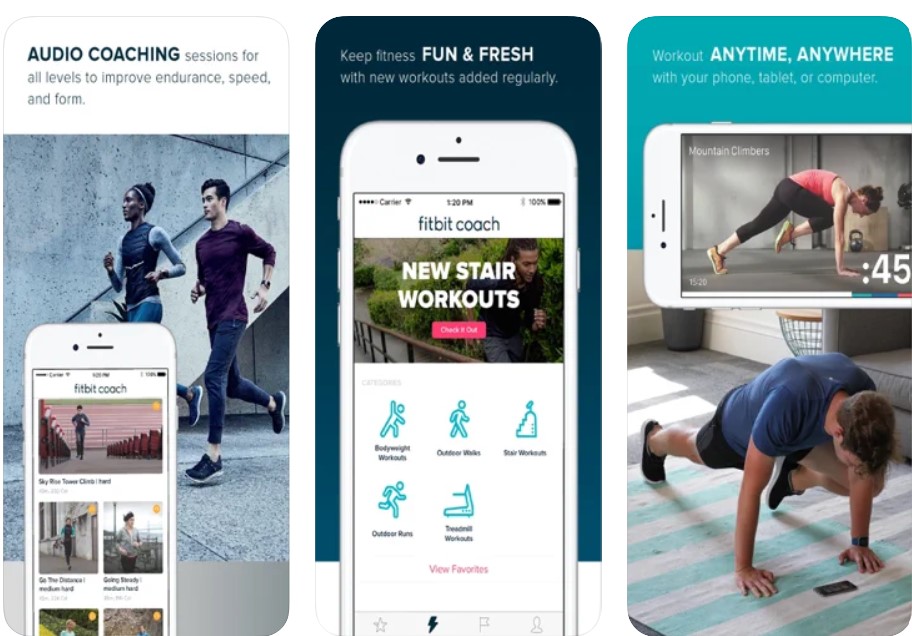 Another one of those big players in this industry, the Fitbit Coach app comes with flexible and adjustable routines. Be it the running, cycling, or walking workouts, you could customize each of them as per your requirement.
Furthermore, each workout session lies between 7 to 60 minutes, and to make these sessions more interesting, you could try out the Fitbit Radio as well. If you are wearing its fitness watch as well, then the app will be able to track your daily workout schedule and sessions and will give you more personalized and tailor-made recommendations accordingly.
4. PEAR – Personal Fitness Coach‬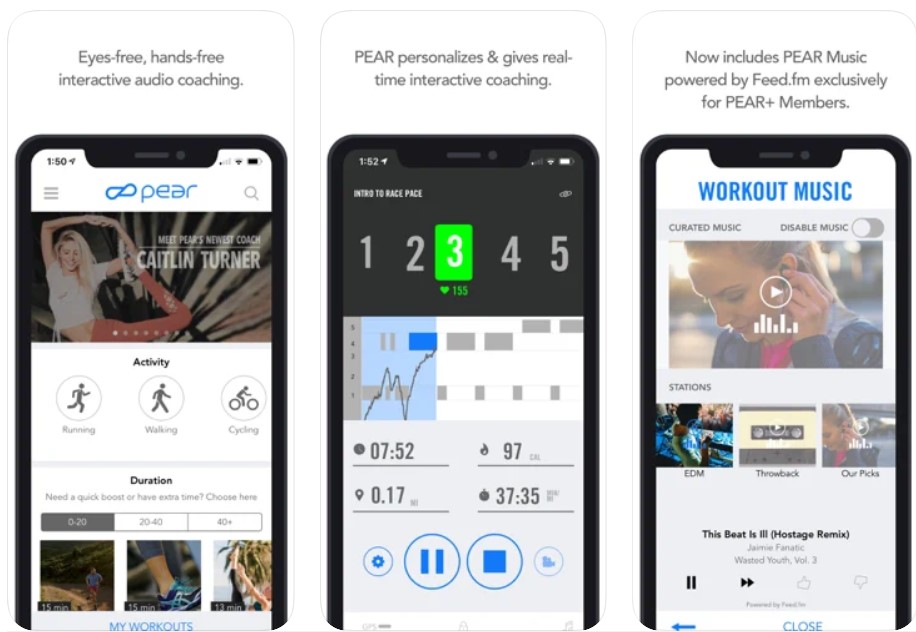 The best part about this app is the fact that there are no 3D animations or robotic background voices. Rather you would be getting training from human trainers, and that too in real-time. Its workout sessions have been specially curated for users based on their likes and dislikes.
To keep a track of your total calories burned, or monitor your heart rate, you have the option to sync the PEAR app with your Apple watch as well. However, if you aren't sure which session will ultimately work out in your favor, you could also try its 14-day free trial version.
5. Workout Trainer: fitness coach‬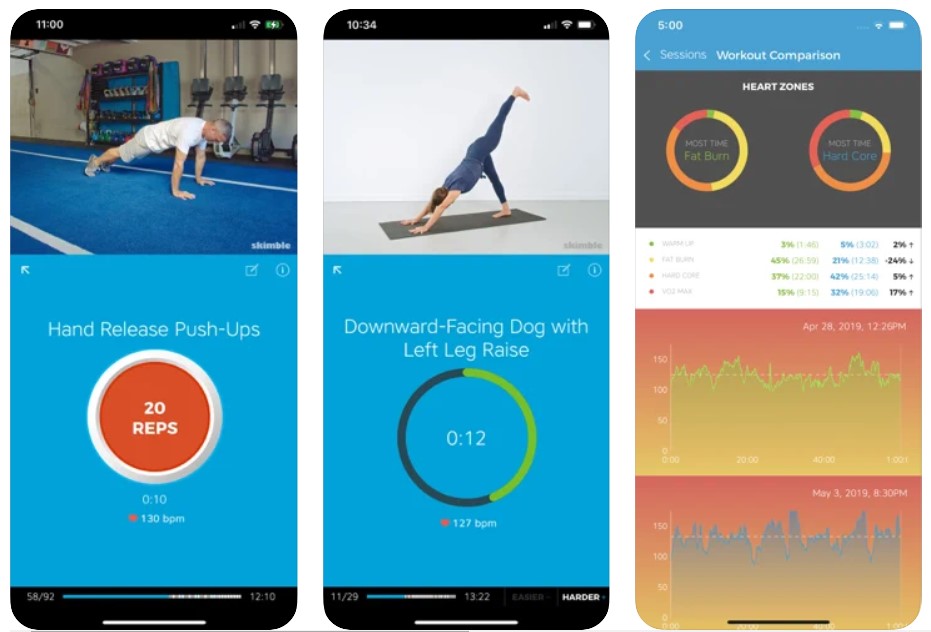 Giving equal weightage to audio, video, and photo training sessions, this app has something for everyone's liking. You could even hire an online trainer and get personalized sessions and training modules.
If the difficulty level seems a tad bit higher, then you could customize it and lower the intensity as well. Then its option to sync data with your Apple Watch would prove to be quite a useful feature addition. It also offers a week of free version so that you could mold your purchasing decision accordingly.
6. SHRED: Home & Gym Workout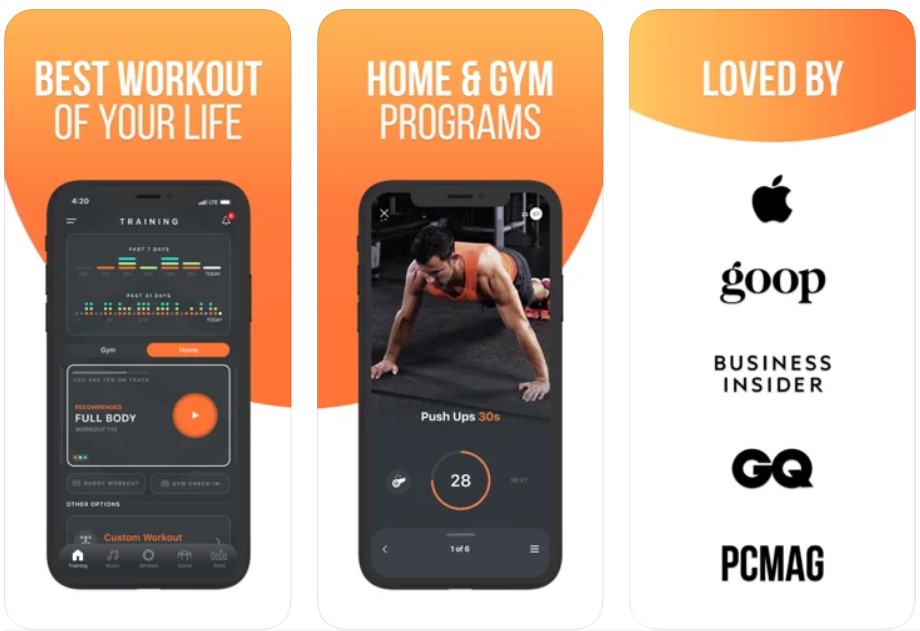 It has mainly categorized its workouts under three distinctive segments: Home Workouts, Gym Workouts, and Cardio Training. Then to make your training session more interesting, you could connect your Apple Music or Spotify accounts with this app.
There's also an active community where users from across the globe share tips and their user experience with this service. All in all, SHRED would come in handy if you are looking to shed off those extra kilos.
7. Seven – Quick At Home Workout‪s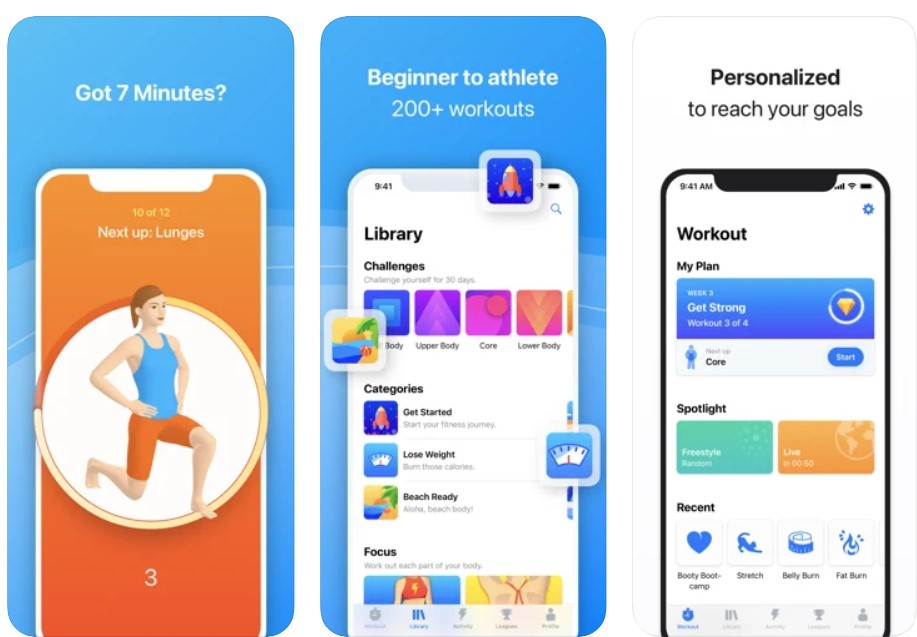 The 'seventh' entry in this list has their priorities straight- they excel in providing seven minutes training sessions daily. So if you are engrossed with your 'work from home' agenda and are finding it tough to take an hour out of your busy schedule, then this app is worth your attention. It also comes with over 200 workout schedules.
However, if you aren't sure of which one to opt for, then you could chalk out your workout schedule based on your preference. Then it also gives you a platform to challenge your friends which would act as a motivating factor for both the parties involved.
8. JEFIT Workout Planner Gym Log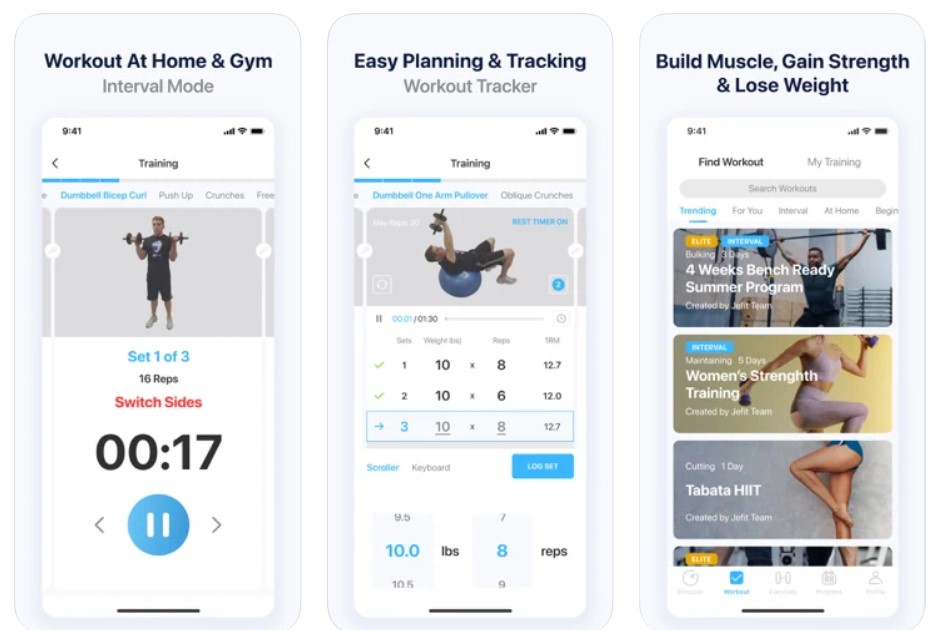 This app comes with probably among the biggest collection of workouts, with over 1300 different types to choose from. Be it 5×5, strong lifts, or powerlifting, you name it and it could proudly boast it in its arsenal. However, if you aren't on the same page with this app when it comes to workout sessions, then you have the option to customize it as per your requirement.
Once you have achieved your desired goal, you could directly brag it off across various social media handles right from within the app. If you are ready to shell in a few extra bucks, then you get exclusive access to comprehensive training analytic as well.
9. ASICS Studio: At Home Workout‪s‬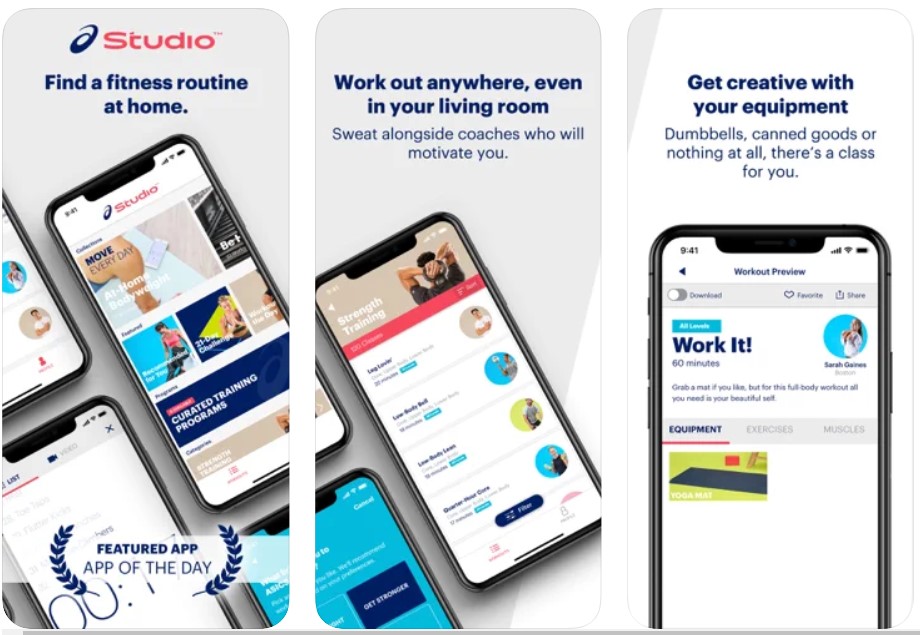 Its multi-week training programs not only focus on hard-core workouts, but gives equal weightage to the likes of elliptical, yoga, and meditation. Likewise, it has some standalone packages based on specific muscle groups.
Furthermore, it consists of a trainer-curated music playlist so that you don't feel like dragging on with the exercise. The best part about this app is that it allows you to download the training so that you could view them offline as and when required.
10. Bodyweight Training: Your Gym‬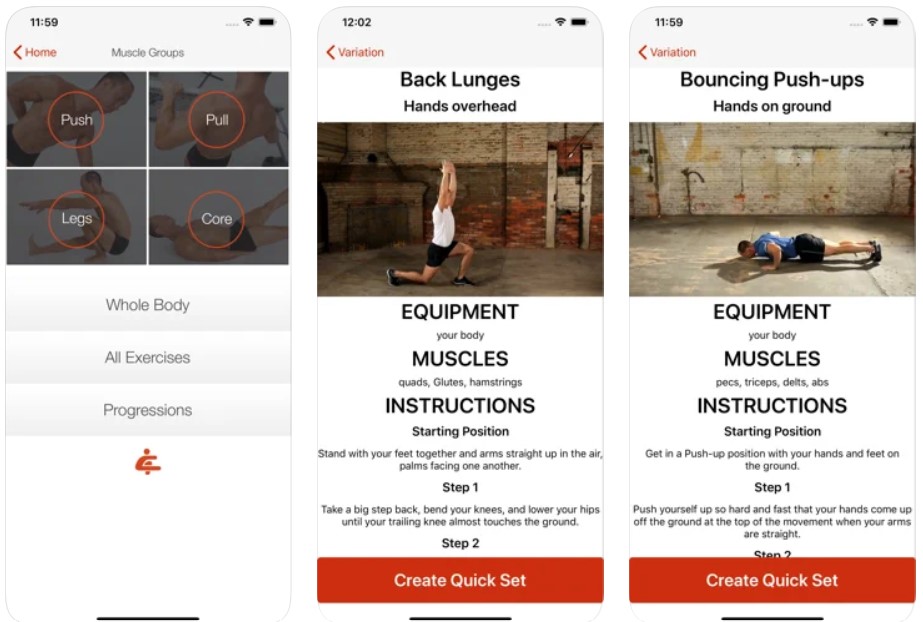 It mostly focuses on short-term exercises, ranging from quick 2 minute drills to a maximum of 36 minutes per day. Then if you are all ready to take it a step ahead, you could check out their 10-week fitness programs.
With continuous on-screen instructions and voice commands, it has completely streamlined the training sessions even for the newcomers. However, the basic UI and lack of Apple Watch support might sway away some users from this app.
Conclusion
With this, we round off the list of the ten best workout apps for iPhone. As you might have noticed, each one comes with its own differentiating factor. As a suggestion, it's better to go for the app's trial version first and if you are satisfied with their offering, then only let them make a permanent abode on your Apple devices. On that note, do let us know in the comments section which app managed to check marked all the prerequisites in your case.
If you've any thoughts on Top Best Exercise Apps for iPhone, then feel free to drop in below comment box. Also, please subscribe to our DigitBin YouTube channel for videos tutorials. Cheers!