Using Blender, you create animations, visual effects, art, 3D printed models, etc., with 3D computer graphics software. But, to use this, you need a high-end PC which is not possible for everyone. However, this is the most common reason why most of the users are looking for some alternatives to this for the 3D rendering.
But, choosing the best one isn't an easy job as you have to check out many factors depending upon your needs. Nevertheless, we have simplified the process for you. This guide will find a complete comparison of the best Blender alternatives for 3D rendering. Therefore, please go through the entire guide. So, let's start with our recommendations:
1. Wings 3D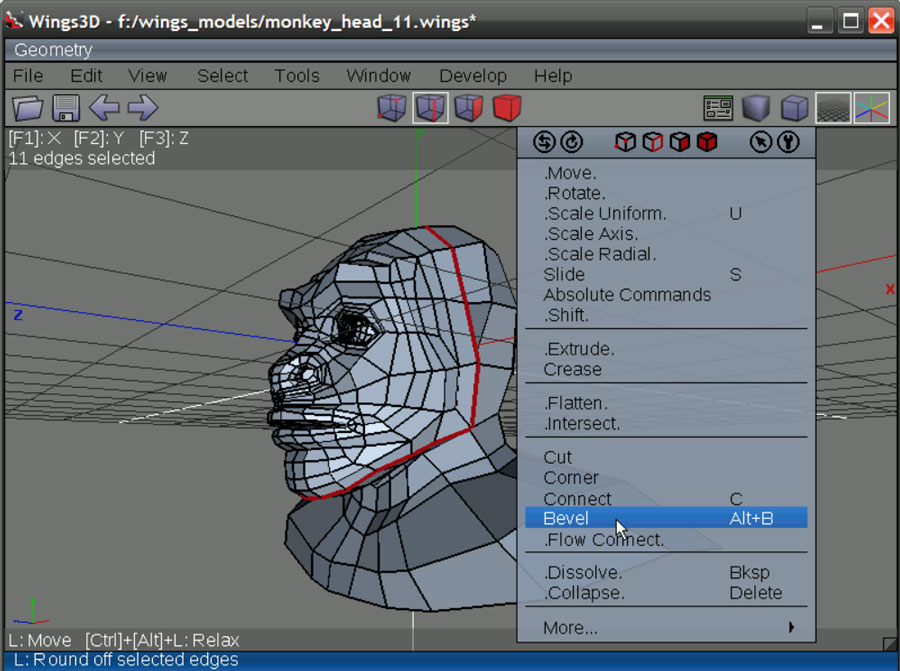 Wings 3D is commonly referred to as Wings by its users due to its internal winged-edge data structure for storing coordinates and adjacencies. It is inspired by the Nendo and Mirai products from Izware. With Wings 3D, you can create free and open-source subdivision models.
A variety of modeling tools, a customizable interface, lighting support, and AutoUV mapping are included. Currently, Wings does not support animated views or OpenGL rendering, although it can export its results to POV-Ray and YafRay.
In Wings 3D, any model is modeled by selecting and modifying its geometry with the mouse and keyboard in four different selection modes: Face, Vertex, Edge, and Body. However, the context-sensitive design of Wings' mesh tools enables each selection mode to have its own mesh toolset.
Features: 
Modeling and selection tools are available in a variety of formats.
Support for Ngon meshes.
You can add and remove plugins using the plugin manager.
The modeling tools support magnets and vector operations.
The user interface and hotkeys can be customized.
There is also an autoUV mapping option.
Tweak Mode lets you quickly adjust meshes.
A character's lighting, materials, textures, and vertex colors can all be edited.
Several popular formats can be imported and exported.
2. Houdini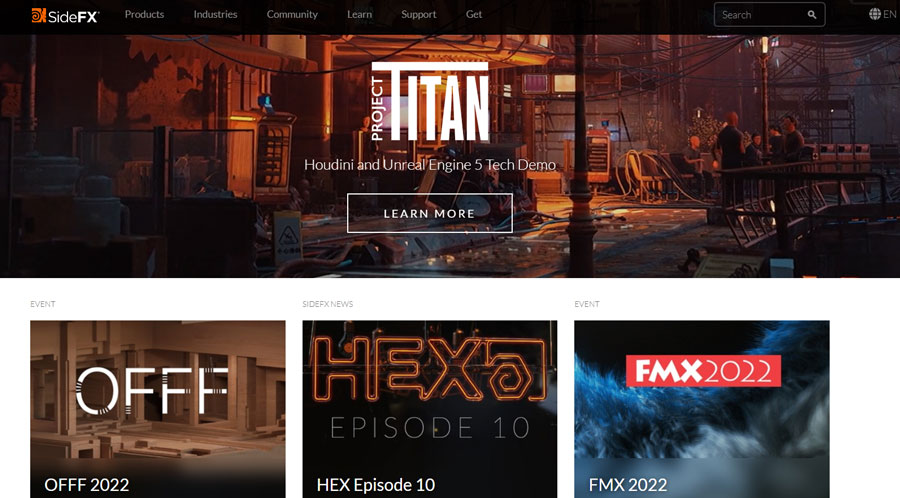 In 2007, Toronto-based SideFX began developing Houdini, a procedural generation toolkit, an adapted version of PRISMS. A number of effects are created using procedural tools, including complex reflections, animations, and particle systems.
It is one of the great alternatives to Blender for 3D rendering. In fact, learning a new program can be stressful, especially if your time is limited – but Houdini can give you an edge over others in the industry.
Houdini covers all major 3D production areas, including animation, simulating, and rendering. Therefore, it's a great option, and you may consider this tool if it meets all your requirements.
Features: 
Creating models.
Designing animation.
Working with particles.
Dynamic effects.
Aesthetic lighting.
3D rendering.
Volumetric rendering.
Custom plugin development.
3. Maya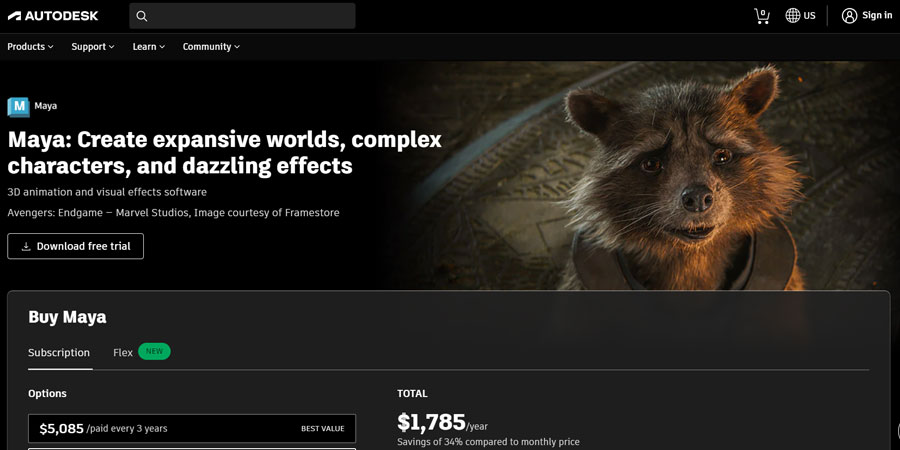 Maya is basically a 3D graphic rendering application used to develop video games, 3D applications, cartoon films, and any visual effects that you watch on any movie or web series. With this software, we can create heavy models that provide a realistic view to the user, making the view appear Ultra 3D.
The 3D rendering software is compatible with Windows, macOS, and Linux. It was originally developed by Alias and is now owned and developed by Autodesk. Nonetheless, if you are interested in an alternative to Blender that enables you to create anything in 3D, you can consider this application.
Features:
Bifrost for Maya. A single visual programming environment for creating physically accurate simulations.
A time editor is included.
It features a graph editor.
USD in Maya. Working directly with data is easy and quick when you use native tools.
You can playback the data quickly.
Wet information can be played directly in Maya through Unreal LiveLink.
Polygon modeling is supported.
NURBS modeling is also supported.
4. SketchUp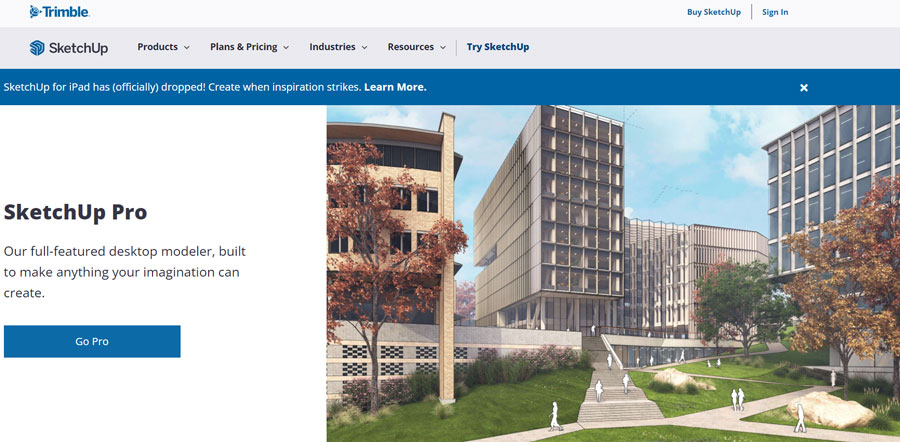 Drawing in SketchUp is a great way to create 3D models and render objects. However, although Blender offers a greater range of rendering capabilities than SketchUp, SketchUp is easier to use.
With SketchUp, you can build 3D renderings for a wide variety of designing and drawing applications. In addition, it has three versions that have increased functionality: SketchUp Shop, SketchUp Pro, and SketchUp Studio. Therefore, you can choose wisely what you need.
Features:  
Integrated systems. SketchUp is compatible with most of the other design tools in your toolbox.
It is extensible. With the Extension Warehouse, you can customize SketchUp to your exact needs.
Create objects. You can use SketchUp's objects to achieve your goals.
5. Cinema 4D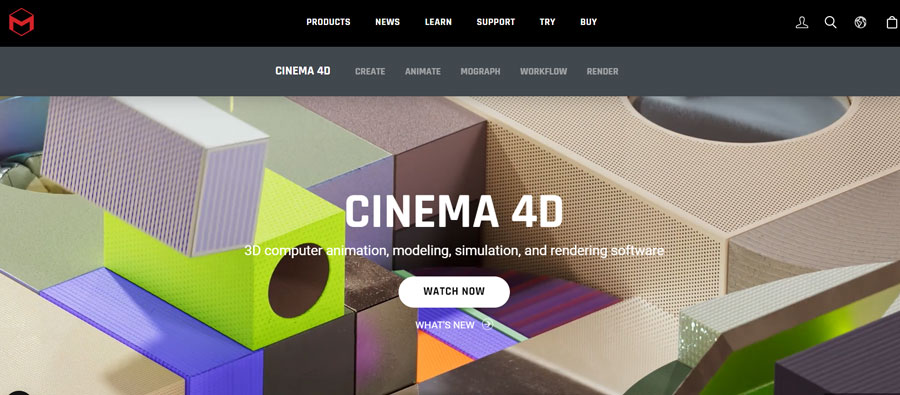 Professionals mainly use cinema 4D, and it is the industry standard for visual effects and design. It is known for having a quick and smooth learning curve compared to other 3D software, and in my opinion, it has been the easiest to learn and produce results quickly.
In addition, 3D workflows are made quick, easy, flexible, and powerful for designers, VFX, AR/MR/VR, game developers, motion graphics, and visualization professionals.
Features:
Create animations or visual effects.
The toolset enables more accessible 3D workflows because it is fast, powerful, flexible, and stable.
The user interface is easy to use.
6. Daz 3D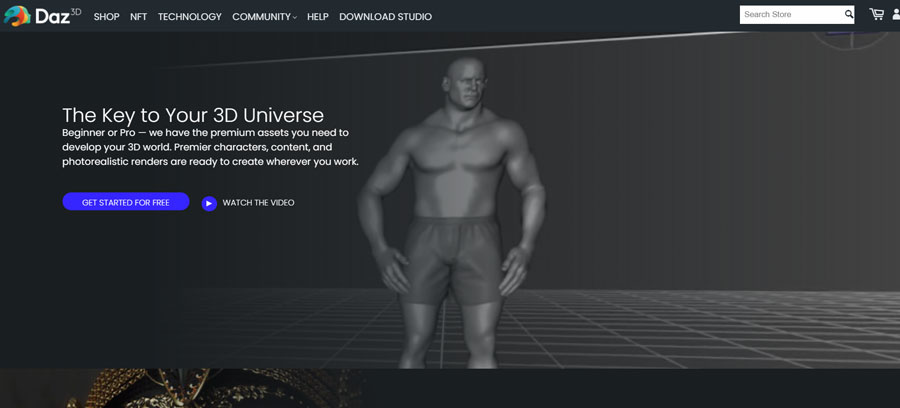 Daz Studio allows you to add or create 3D models and then render them. So, in simple words, it is basically 3D modeling and rendering software.
In seconds, you can make a scene and a character from scratch. You can build your own poses, rigs, and renders to create your own world. Daz Studio gives the same quality to your art as Blender does.
It is one of the best alternatives to Blender for 3D rendering if you want to create realistic scenes with beautiful 3D plants, stones, or fabrics but do not want to use Blender.
Features:
Automatic conversion to Vray.
Support for muscle-flexing.
Highly detailed characters.
Create 3D art with Daz Studio software.
Easy to import into Maya.
Articulations and bends were added to the software.
Accessory for deleting hexagons.
The ability to model clothes.
7. Bforartists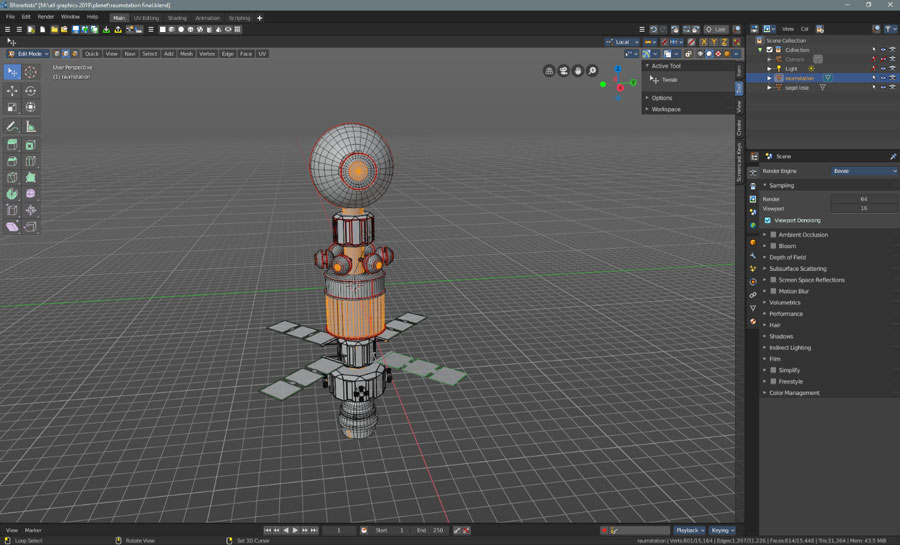 For artists who want to create 3D content, BforArtists is the best free and open-source graphics designing tool available. This software allows you to create 3D artwork for games, pre-rendered movies, and stills.
It offers many things to you, including texturing, rigging, animation, modeling, sculpting, and rendering. However, it is a complete package for anyone who is looking for some best alternatives to Blender for 3D rendering.
Features:
Redesigned user interface.
Improvements to default settings.
With just the necessary hotkeys and solely mouse-driven navigation, every user will have their own keymap.
UX improved.
Extensible UI.
More icons and a more colorful interface than Blender.
If you've any thoughts on 7 Best Alternatives to Blender For 3D Rendering, then feel free to drop in below comment box. Also, please subscribe to our DigitBin YouTube channel for videos tutorials. Cheers!