The thought of checking your smartphone's performance might not cross your mind until something goes wrong with it. Fortunately, many apps are available that check your Android device's performance. These apps are known as benchmark apps, and they check your CPU, GPU storage, and other hardware components of your Android smartphone. Although there are many apps available, we have compiled a list of the best benchmark apps for Android to make your job easier.
The majority of cross-platform benchmarking apps can be found and installed directly from the Google Play Store, but some can't. You'll have to visit their official website and install it the direct way. Using these benchmark apps for Android could be very beneficial as they keep track of your smartphone's memory usage and help optimize it better. So without any further ado, let's get started.
1. GeekBench 5
If you want to check your Android device's CPU performance by running tests that model real-world tasks and applications. GeekBench is your go-to app to learn more about your smartphone. It tests your system's potential and GPU power to perform essential tasks like gaming, image processing, or video editing.
GeekBench's ability to measure your device's CPU performance while doing everyday tasks makes it one of the best benchmark apps for Android. It can also generate single-core and multi-core scores to compare with other devices. Alongside that, a Vulcan computer testing feature is also available that accurately measures the processing power of your Android device's GPU.
2. AnTuTu Benchmark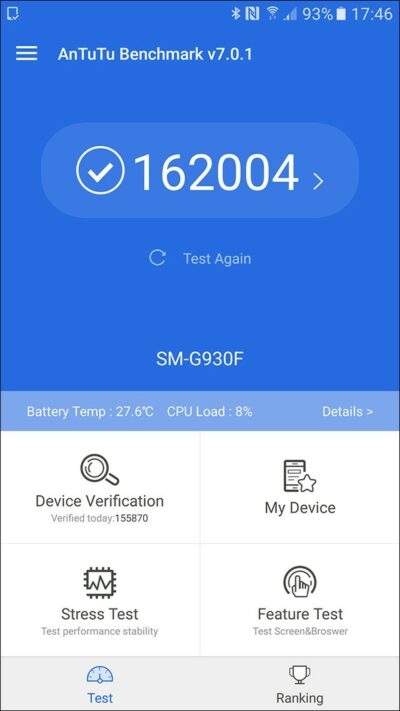 AnTuTu Benchmark has a very easy-to-use interface that makes it one of the most popular benchmark apps for Android. It can perform practical UX tests that better reflect real-world uses. This app can test your smartphone across all aspects, including GPU, CPU, and memory tests.
The CPU test helps you know how powerful your device's CPU is, whereas the GPU test analyzes the real graphics processing performance of your phone. AnTuTu can also test how much data your RAM and storage can process. It then shows you a master score of your device's performance by breaking down scores for each category. Also, this app allows you to compare your phone's ranking with other devices.
3. 3DMark – The Gamer's Benchmark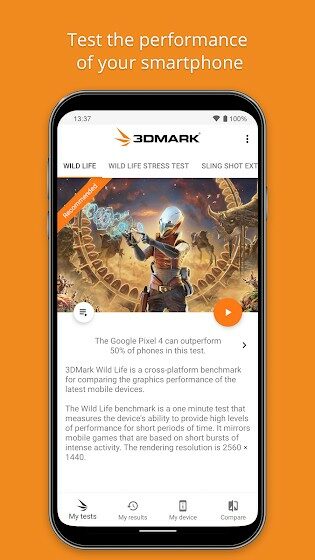 3D Mark is an Android benchmarking tool that comes with a modern and minimalistic UI. The app is very easy and convenient to operate with its one-tap commands. It also shows the performance capacities of other devices.
A 3D Mark Wild Life feature is also included that analyzes performance results when your device is under heavy load. Initially, the app allows you to check the generation-based device category and protect your device's future. This app works flawlessly on majority of Android devices and is completely free to use.
4. GFXBench Benchmark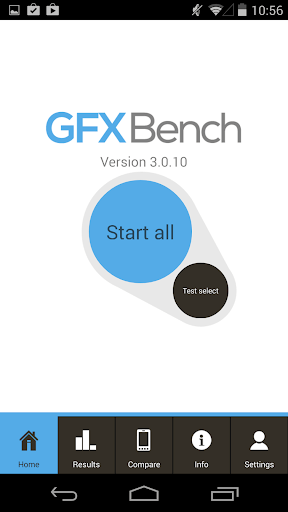 It is an open-source benchmarking tool available on the Google Play Store. It is one of the best benchmarking tools for Android that validates the graphical capabilities of your device. GFXBench is available for almost all mobile platforms, which makes it convenient to use for cross-platform users.
It uses numerous rendering APIs to test your smartphone hardware when running under heavy workloads. Other than analyzing your devices' performance, GFXBench can also keep track of the power consumption ratio and stability in prolonged execution stresses. It is absolutely free to use and comes with all the necessary benchmarking tools to test your device.
5. CPU Throttling Test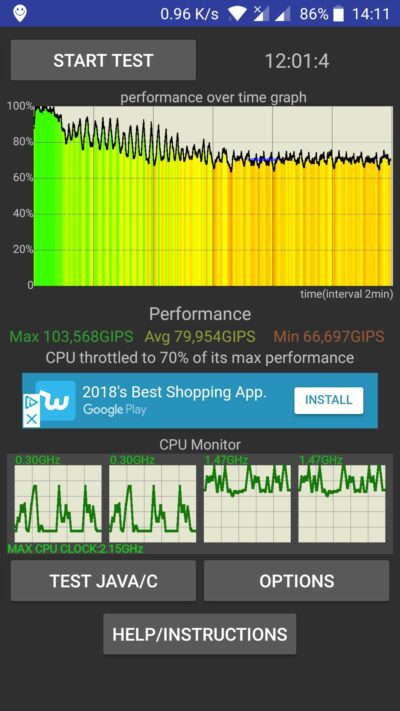 CPU Throttling Test allows you to check when your phone heats up and throttles under heavy load. It loads your device's CPU with around a hundred threads to measure its performance making it one of the best benchmark apps for Android. If the CPU can't sustain the performance, it'll start to throttle.
This app checks the consistency of your smartphone's performance using custom benchmarks. You can also use it to check two devices from different manufacturers and know the best one.
6. PCMark for Android Benchmark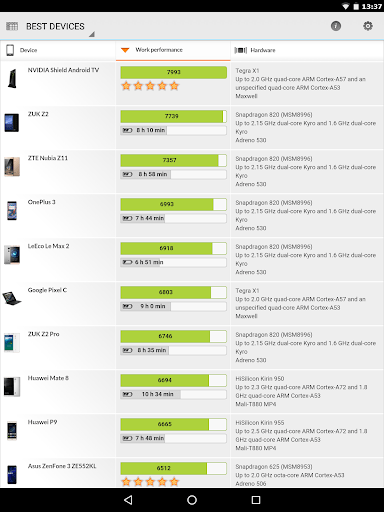 PCMark for Android checks your Android device's performance and battery life by performing different tasks on a daily basis. After you install the app, you can download and run any one of the two benchmarks: Work 3.0 or Storage 2.0. By using the Work 3.0 benchmark, you will conduct performance and battery tests.
Whereas by running the Storage 2.0 benchmark, you'll be measuring the performance of your device's storage. This includes various tests to analyze your device's internal and external storage.
7. Basemark GPU

Basemark GPU is an advanced benchmarking tool that tests your Android device's GPU and graphics performance. It uses a very powerful engine built especially to test the performance and sustainability of various devices. It is a multi-platform-supported benchmarking application that uses multiple API 3D graphics benchmark tools.
However, you'll need to download some additional files after you install Basemark GPU. But once the setup is complete, all the testing operations are very easy to use and are built using the industry's best testing tools. Additionally, this app uploads all test scores on its web service and allows you to integrate custom tests for your convenience.
8. Linpack

Linpack is another one of the best benchmark apps for Android. It measures your device's performance by using its calculating and equation-solving power. This app is available for free on all Android devices and works even when offline.
Its user-friendly UI allows anyone without any prior knowledge of benchmarking apps to use it easily. Linpack shows perfect results when calculating your device's floating-point computing power. Also, you can compare your Android device with any other using its compare feature.
9. AndroBench Storage Benchmark
Androbench is built especially for analyzing your smartphone's storage facility. Using this app becomes extremely easy with its basic and minimalist UI. It also provides you with a detailed flowchart of your device's storage performance.
A micro-benchmarking function that compares the base performance of your storage system is also available. Using AndroBench, you can test basic performance, update, insert, and delete queries using the SQLite benchmarking option. Also, it is completely free to use and comes with no commercials to bother you.
10. CPU – Z
CPU-Z is the last benchmark app for Android on our list. It allows you to know your device's processing capabilities. You can analyze your phone's SoC name, architecture, clock speed, battery level, status, temperature, and capacity.
It also identifies censuses by requesting internet access for online validation. Online validation allows storing the hardware specification of your Android device on a database. It is also free to use and is available on the Google Play Store.
These were the best benchmark apps for Android. All these apps can help you analyze and compare your Android smartphone's performance. Anyways, do let us know which app you'll use.
If you've any thoughts on 10 Best Free Android Benchmarking Apps, then feel free to drop in below comment box. Also, please subscribe to our DigitBin YouTube channel for videos tutorials. Cheers!