Android Emulators certainly make it possible to run your favorite android apps right on your PC/ Laptop as well. Using your mouse and keyboard, you can even play any mobile game, such as Mobile Legends, PUBG, etc., on your computer. Finding an emulator is not a big deal, as you can find tons of them on the internet. However, if you have a low-end PC, you need to be more selective regarding the system requirement of the emulators.
Most modern-day Android emulators generally come with better features and functionalities, but they also have high system requirements. But worry not; if you want to install an Android emulator on your PC having low-end specifications, we have brought you the perfect options here. In this article, we will be looking at the 5 best Android emulators that can work smoothly even on a machine with RAM as low as 2GB.
Best Android Emulators for Low-End PC
Even as we talk about emulators specifically for low-end Laptops, there are a bunch of them available. Some promises excellent features; some boasts about their lightweight product, and so on. However, in the end, we want an option with a decent performance and all essential features.
So, we have had complete research considering all factors. And here are 5 of the best android emulators you can go for in 2023 without worrying about their system requirements.
1. BlueStacks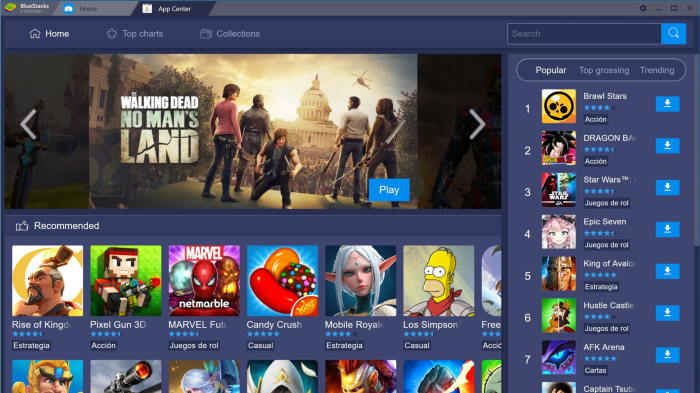 Whenever it comes to Android Emulators, BlueStacks is one of the most popular names you will hear about. It is because this emulator is dedicated to gaming and promises to offer a high-quality user experience. More interestingly, BlueStacks is a lightweight android emulator that can efficiently run on any low-end PC.
As it keeps getting periodic updates, software improvements are very much visible. In fact, the latest version of the emulator focuses on providing better speed and introduces a lightweight system. As a result, you can see great enhancements in the emulator's performance. If that is not enough, BlueStacks is an ad-free android emulator available completely free of cost.
It comes with a lot of in-built tools that focus on consistently improving performance, even on a low-end machine. Tools like the Instance Manager, Key Mapper, etc., take care of the overall performance of the emulator. In simple words, if you are looking for an android emulator that focuses on both performance and features, BlueStacks is currently the best option to go for without a doubt.
2. Droid4X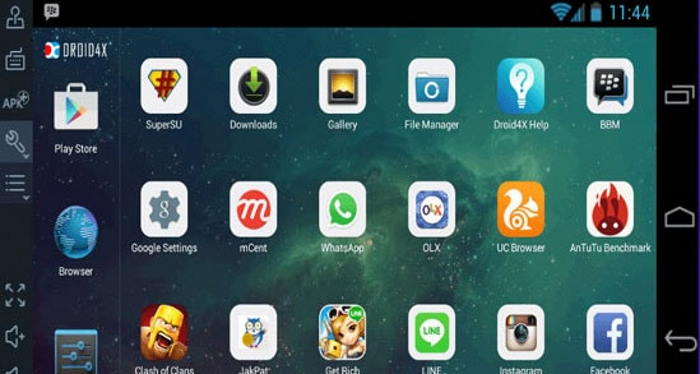 Droid4X is a simple, the most lightweight android emulator available for PC/ Laptop. Unlike BlueStacks, it doesn't give you access to so many tools to enhance performance. But it does have its own trademark features that make it a fair competitor on this list.
Firstly, it can run on Windows 7 and all later versions efficiently. Droid4X can smoothly work on machines having as low as 1GB RAM. It also allows you to record screens, map the keyboard, and all other basic facilities. One of its highlighted features includes turning your Android device completely into a controller. This feature alone can help you take your mobile gaming experience to a whole new level. Although not wholly dedicated to gaming, you can still get great android exposure on your PC.
3. LDPlayer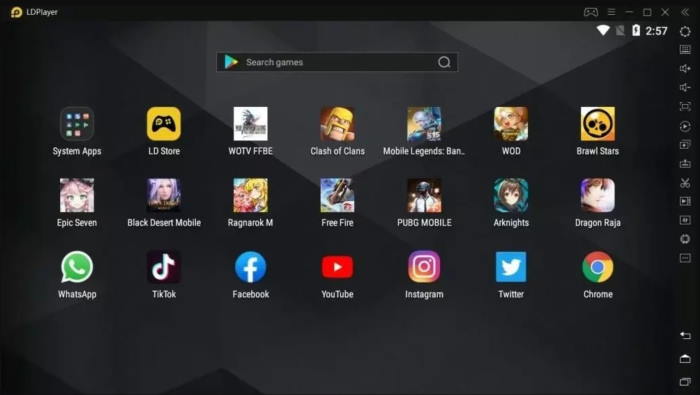 Next, we have another great android emulator specifically designed to support android gaming on PC. In fact, LDPlayer has even earned the name of an Android emulator for gaming. LDPlayer has its edge over other emulators when it comes to speed and stability. The emulator displays excellent stability providing a better gaming experience.
It even supports multitasking, as you can work simultaneously on multiple windows without any interruption. So,  compared to most other emulators, LDPlayer provides you with a reasonable performance along with mind-blowing speed and stability. It works fine on a low-end PC with at least 2GB RAM, Windows 7, and 36GB free disk space.
4. Andy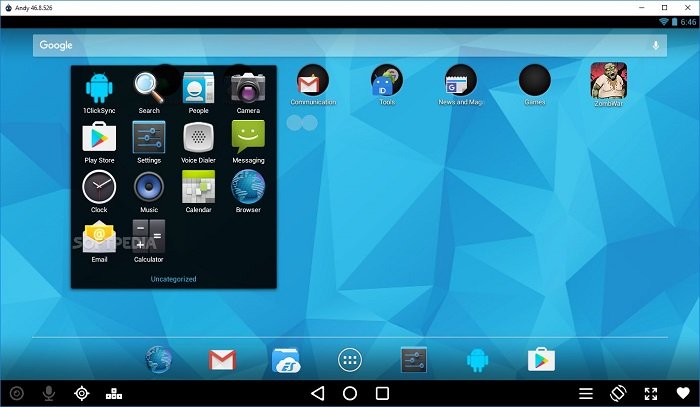 Andy is comparatively a new name in the list of best android emulators. Initially, the emulator had to face a lot of troubles and bugs. However, it took them some time to transform into one of the best emulators available for low-end devices. Starting with its system requirements, Andy can perform smoothly on a machine having a Windows 7 OS/ Ubuntu 14.04+/ Mac OSX 10.8+. It runs efficiently on any PC with a minimum of 1 GB RAM and 10 GB free disk space.
Coming to its features, Andy does come with a complete Android interface, thereby providing you a real Android-like feel even on your PC/ Laptop. The emulator is highly flexible and includes more Android features than any other emulator. Moreover, just like Droid4X, Andy also lets you convert your Android phone into a standard controller and enhance your gaming experience too.
5. MEmu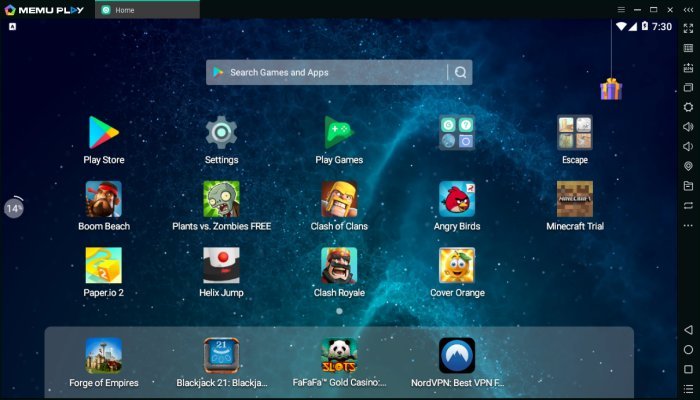 Finally, we have MEmu, another android emulator known for its exceptional performance and user experience. It is a lightweight android emulator with tons of features to provide you with the experience of a complete Android device. Known specifically for gaming, this open-source emulator shows great stability and introduces some blazing features to level up your experience.
MEmu has a huge user base with over 20 million users. The emulator is legally available in over 200 countries and is available in 20 different languages. The optimized graphics takes care of the smoothness and high-quality gaming performance. More interestingly, MEmu further allows the sharing of files between Android and Windows platforms.
Additionally, it supports faster APK installation, and access to high-end mobile games like PUBG, etc. However, one drawback is that MEmu doesn't support all Android games. Some of them might lag during gameplay. But the good thing is that you will never have trouble while playing most of the popular titles of Android games on PC.
Conclusion
Apart from these, there are a whole lot of other android emulators available for PC/ Laptop. However, if you are looking forward to extending your Android experience to your PC in 2023, these are some of the best emulators to look for. While BlueStacks is an all-rounder, emulators like LDPlayer and MEmu specialize in certain things.
So, make sure what you are looking for in an emulator and select one of them accordingly. Let us know which one among them you like the most, and share your user experience with us.
If you've any thoughts on 5 Best Android Emulators for Low-end PC/Laptop, then feel free to drop in below comment box. Also, please subscribe to our DigitBin YouTube channel for videos tutorials. Cheers!