Telecommunication companies make it faster, more flexible, and easier for people to communicate. With the new-age technologies, you can contact somebody via a phone call or text message from anywhere in the world for free. TextNow, previously known as a voice-over IP (Internet Protocol), is an app to text and call any number in the United States or Canada.
The service provides subscribers with numbers that can be accessed on any smartphone, desktop computer, or tablet connected to the internet. While TextNow is a great way to have a virtual number and connect with anyone, it also has its drawbacks.
There have been reports of people getting spam messages and blackmail calls through TextNow numbers. If you are facing such issues, you would want to know who owns the Textnow number through which you are being called or messaged incessantly. We will help you know how to trace and find out the TextNow number in this guide.
How Does TextNow Work?
The TextNow app uses a WiFi network to make phone calls or send messages. You can classify it as end-to-end phone service. This saves you money on your monthly phone bill. You could use the TextNow app over Wi-Fi to make calls or send texts with a U.S. phone number that you received as a Voice over Internet Protocol (VoIP) app.
In its early days, TextNow relied on Sprint's CDMA network but gradually became available on WiFi.  Once you sign up with TextNow, provide your location's area code. TextNow will provide a phone number based on that. Use that number to make phone calls and text messages.
Best Tools for TextNow Phone Number Lookup Online
We have shared a few methods in this article to help you trace and find out the TextNow Number. If someone is using the TextNow numbers to spam, bully, or blackmail you, get to know their details. Let's check out these methods:
Trace the TextNow Number via Truecaller
Both Android and iOS phones can use Truecaller. Some of its popular features include call management, SMS services, and spam blockers, as well as caller identification. Truecaller now includes deep tracking as part of its new features.
During your search, you will be able to locate the name of the number's owner, as well as details about its activity. The free version of TrueCaller also allows you to block the numbers spamming you.
To trace a TextNow Number using Truecaller, follow these steps:
Install the Truecaller app, launch it, and grant all permissions it asks for.
Enter all the required information, such as your name, address, email address, and other details, in the registration form.
To track a TextNow number, enter their phone number in the TrueCaller search bar. You will be able to see the details of the person if their data is synced with Truecaller.
Besides the user's name and address, you can also see their location on the map and track that.
Use the SpyForMe Tool
With SpyForMe, you can trace the details of a number used to cyberbully, threaten, or spam you.
To track a TextNow number using the SpyForMe tool, follow these steps:
Go to the Spyfor website.
Click on the Start TextNow Number Lookup button.
Enter the TextNow number you want to track.
Wait a while for the results to appear.
Trace the Number by Creating A New TextNow Account
Becoming a member of TextNow would be another way of tracking TextNow numbers though it is not a surefire way. This trick may work if you suspect the user of the alleged TextNow number to be a person you know.
Once you have an account on TextNow, ask the other account owner to reveal their identity. You can do this if you have a good relationship with them. While it sounds easy, it is highly improbable that any person with a bad motive would open up about their modus operandi.
Report the TextNow Number to the Police
When the matter gets out of your hands, involve the law and order authorities. If you have been getting threatening phone calls or messages via TextNow numbers, report the number to the police.
Police will use their sources and technologies to trace the owner of the TextNow number used to harass you. There are greater chances that the user of the number will be nabbed and your problem will be solved.
Contact TextNow Support
TextNow has provisions for emergency disclosure of information when the situation demands it. Click here to download the Emergency Disclosure Request Form.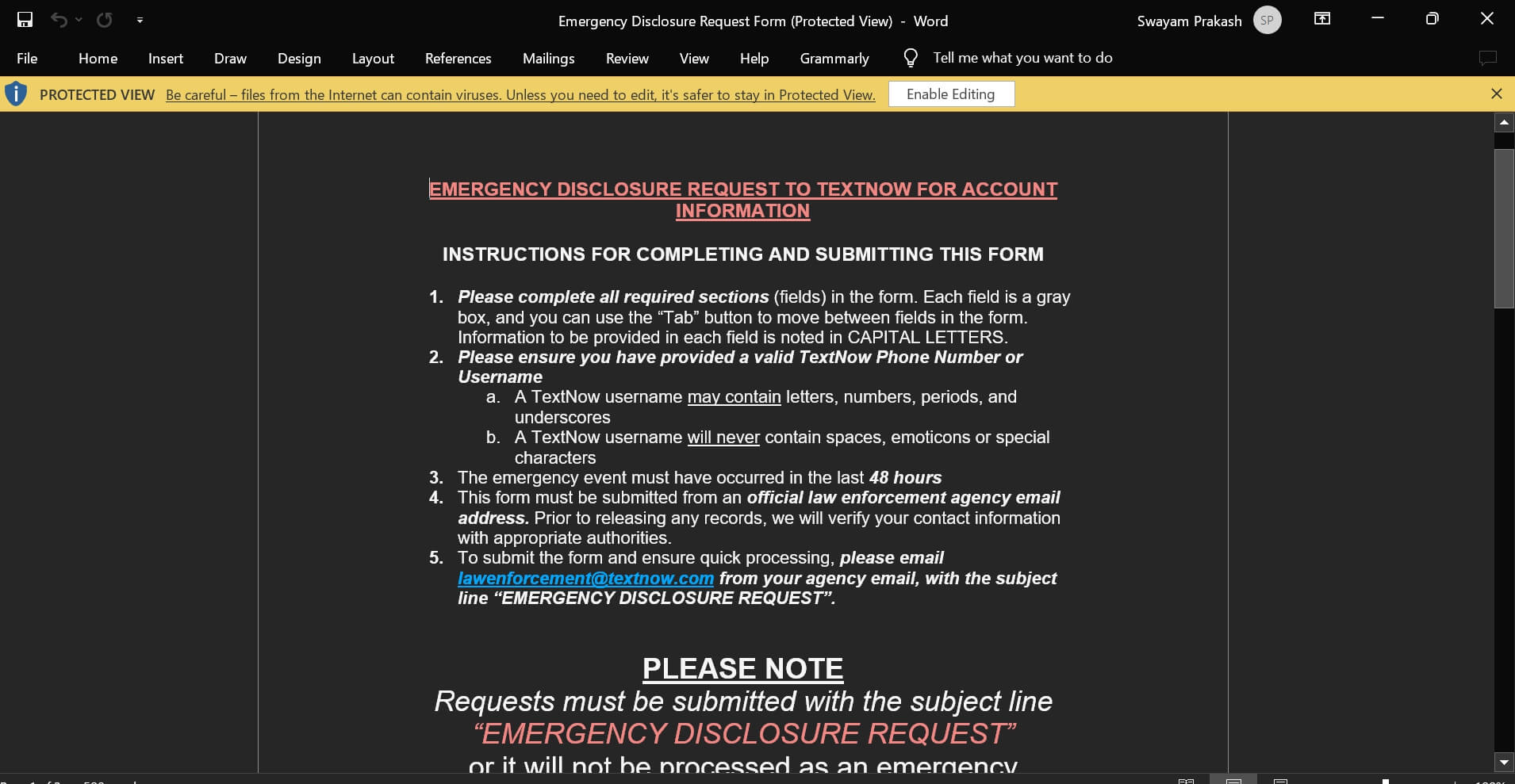 Examining the intensity of the problem, TextNow may disclose
The email address associated with the TextNow account,
The first or last name on the TextNow account,
IP address information associated with the TextNow profile
To learn how TextNow may or may not entertain a number ownership disclosure request, click here.
Is it Safe for Kids to Use TextNow?
If you want, you can allow your kids to use TextNow. Generally, TextNow is not geared towards schoolchildren. Kids can also use TextNow on their phones as long as they are always supervised.
Installing TextNow on an old phone is fine if you don't want your teenager using a smartphone in the house. Kids would have limited internet access, they can make and receive free calls and texts.
Using TextNow for Meaningful Purpose
TextNow is a useful technology for generating phone numbers to connect with people. It is a productivity tool. If you are annoyed due to spam messages or derogatory calls from a TextNow number, use the tips in this guide to trace the owner of the number.
If you've any thoughts on How to Trace and Find Out Who Owns TextNow Number?, then feel free to drop in below comment box. Also, please subscribe to our DigitBin YouTube channel for videos tutorials. Cheers!