In today's era, messaging has become one of the common ways to communicate with people all over the world. Regarding online messaging platforms, GroupMe and WhatsApp are some of the popular apps that support both private and group messaging.
These messaging apps not only support sending text messages, but you can also send images, video and audio clips, documents, etc. All of this is entirely free, and no money is charged. GroupMe is an instant group messaging app owned by Microsoft and developed by Jared Hecht and Steve Martocci at TechCrunch Disrupt in 2010.
While Facebook acquired WhatsApp in 2014 for $19B, Jan Koum and Brian Acton developed the app. WhatsApp and GroupMe are very similar apps with a few unique features from one. Comparing these two applications, we have to discuss each unique feature and its use in detail.
In this article, Let's settle the fight between GroupMe and WhatsApp – which is better? We will discuss a few features in both apps, compare overall features, and decide which is better and why. So without any further ado, Let's get started.
GroupMe vs WhatsApp – Best Messaging App 2022
Let's talk about a few basic features of every messaging app: First and most important, Privacy – This feature is one of the essential features of any messaging app as no one wants their data to be public. Second, calls – Few people love to message, and a few love to call and talk. Voice and video calls are the most used features of messaging apps, and it's free. Third, document sharing – You can share files up to 100MB on WhatsApp. File sharing comes in handy in many situations where you are not allowed to share files.
In GroupMe, one of the best features is adding people to a group chat without them installing the app. If you have the phone number of the person you want to add to a group chat, then you can add them to the group chat without them installing the app. This feature comes in handy when you want to quickly add a person to a group chat and don't want to waste time even installing the app. The person without the app can use their default messaging app to access the group chat.
When it comes to smooth Ui and easy-to-navigate UI, then WhatsApp has an upper right hand because WhatsApp has one of the most minimal UI.
Privacy – WhatsApp vs GroupMe
Privacy in WhatsApp is something we have to throw some limelight on because of the fact that Facebook owns WhatsApp and Facebook had many cases where it was proved that they were leaking the data. But there were no such cases with GroupMe.
Login – WhatsApp vs GroupMe
In WhatsApp, you should have a sim inserted into the phone where you want to use WhatsApp. But that's not the case with GroupMe because you can use GroupMe without a Simcard. There is also an option to sign in using Facebook in GroupMe.
Other features comparison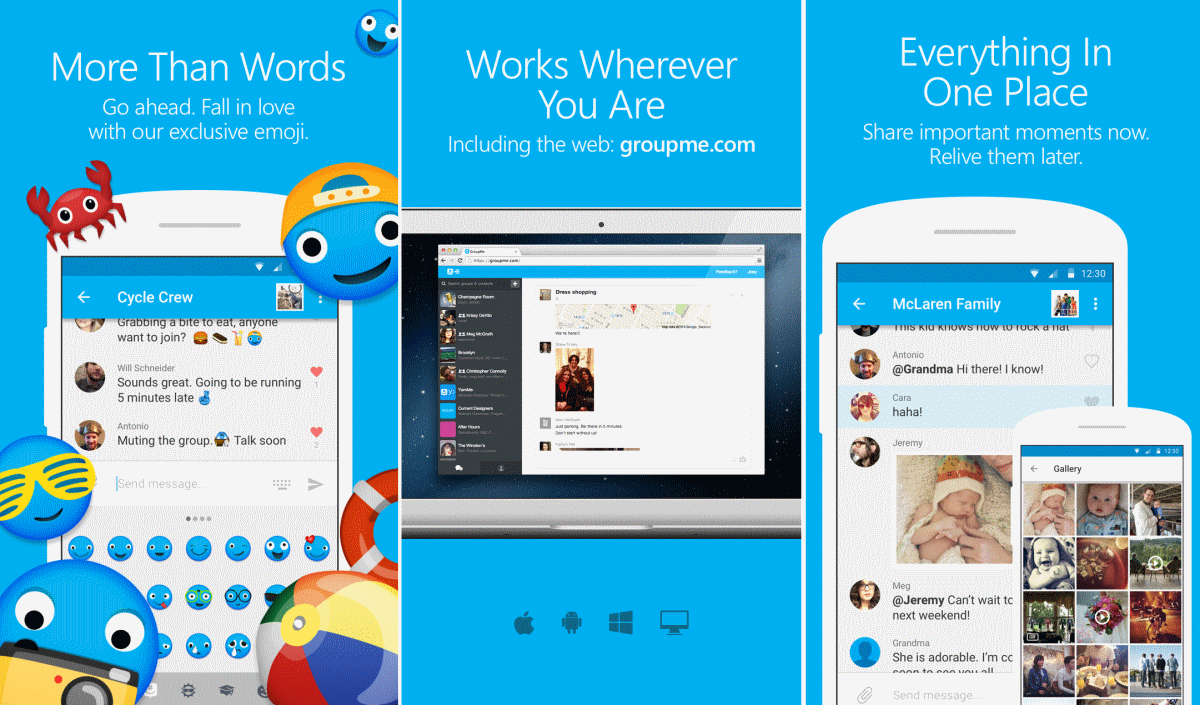 WhatsApp has a search option but it is not found in GroupMe.
You can see someone typing in WhatsApp but not in GroupMe.
WhatsApp has a two-way video chat, while GroupMe doesn't have a video chat option.
You can send temporary or disappearing text messages on WhatsApp, but there is no such option on GroupMe.
While on the Brightside, if you want an app dedicated for using groups, you can use GroupMe because it was specially designed for groups.
If you want to access the messaging apps on your pc, then both of the apps got you covered, as you can use WhatsApp and GroupMe on desktop devices.
WhatsApp showed when the user used the app last time; even though you can hide it, it's a very good option until it's not.
Final Words
As we end this topic, it's time to choose one of the apps – WhatsApp or GroupMe; which is better? If you want a messaging app for personal use, then consider using WhatsApp, as it has many features that are very useful in daily life. You can send images, audio or video clips, documents, etc. But if you want a messaging app, especially for managing groups, consider using GroupMe, as it was specially designed for managing and using Groups. If you have any queries regarding the article, please drop a comment below and also let us know which is your favorite app, and that's a wrap.
If you've any thoughts on GroupMe vs WhatsApp – Best Messaging App 2022, then feel free to drop in below comment box. Also, please subscribe to our DigitBin YouTube channel for videos tutorials. Cheers!