As we are getting more and more dissolved in this dynamic world, people hardly get any time to focus on the basic fundamentals. One of them being our financial health as well. No doubt, we all work for a better living, but that is not the only thing to improve our financial health. In fact, one of the most important things in maintaining a well-balanced financial record is to keep track of our net worth. And thanks to the various net worth tracking apps today for making this job easier for us.
Net worth depends upon a variety of factors, our assets, liabilities, and daily-life financial updates. Unfortunately, keeping track of everything on pen and paper has become an impossible task for all of us. However, with the help of some extremely reliable net worth tracking apps, we can now keep ourselves updated regularly and put our money in the right place to better our financial health.
And for all iOS users out there who are looking for a way to keep track of their net worth, we are here to make things much easier for them. As already mentioned, today we have a lot of these types of apps, hence it gets really pesky to pick one among them. Fortunately, after going through this post, you will be able to pick the best net worth tracking app for iOS. Here we have included only the best applications that provide you with multiple features to ease your tracking with maximum accuracy.
Best Networth Calulator Apps for iOS
A dependable net worth tracking app is not one that only keeps track of your income and expenses. Rather it is one that allows you to organize your money and gives a final output based on all factors. Certainly, today we have access to such apps that offer you the dynamicity to manage your money in the best possible ways.
We have brought together some of the most powerful and reliable net worth tracking apps that will help you uplift your financial condition. More importantly, we will dive deeper into each of these applications to make it easier for you to make the right choice based on your requirements.
1. Vyzer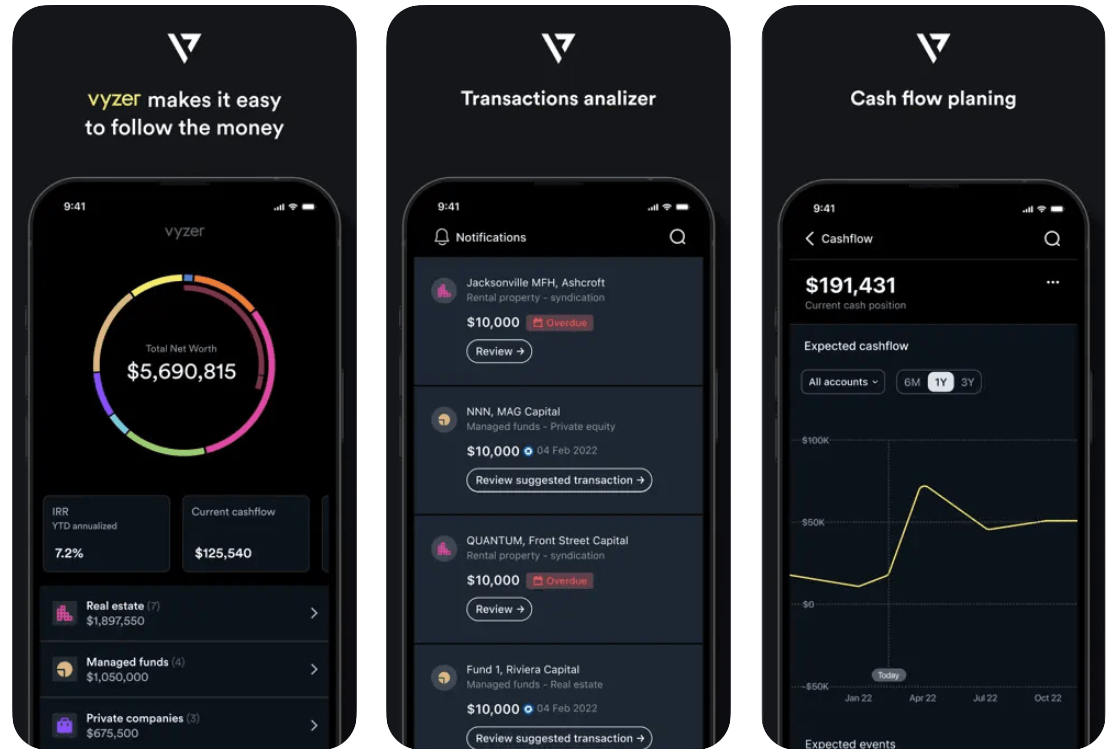 Vyzer is one of the most feature-packed investment tracking apps in the modern day. It is almost like having a personal accountant having access to all your investments and just better. It is a perfect tool for individuals having large net worths which offers both public and private investment tracks. The best part is that no matter how diverse your portfolio looks, Vyzer maintains tabs organizing all your investments and their performance. So, you can have access to your entire portfolio from a single place itself.
It offers various types of tools for financial planning, wealth management, portfolio tracking, and whatnot. More importantly, you can upload your financial documents in various formats, be it an Excel sheet, spreadsheet, quarterly document, or any other document. It uses an AI model to collect more filtered data for each of your statements. Vyzer automatically detects which link points toward what type of asset or liability and updates your investments accordingly.
Highlighted Features:
Simplified data import
Investment account integrations
Real-time performance tracker
Transaction tracking
Co-investments tracking
Organized holding structures
Trusted community insights
Distribution scheduling
Exploring cash flow scenarios with Vyzer AI
Regular alerts on Capital calls
Comparison of real-time and target performances
Performance reporting
Report generation
Offers multi-family office
Security Measures
Encryption of data at rest and in transit
Two-Factor Authentication Login
Banking and crypto account details are not stored
Maintains a separate cybersecurity department to bring security updates with time.
Pricing
Fortunately, Vyzer offers a free subscription plan which is a big surprise for individuals willing to gain control over their net worth. The free plan comes with sufficient features for someone looking to create their portfolio and explore the application. However, it is not recommended for individuals with high net worth, as you will be missing out on a lot of essential features.
Apart from that, it comes with two other monthly subscription plans, Vyzer Plus and Vyzer Premium. The Plus subscription plan is a mid-range plan and is worth it for people having diverse portfolios. Otherwise, if you hold a high net worth with a very complex portfolio, you should go for their premium plan. This will provide you with all the essential tools you may ever need.
Vyzer Starter – Free (No credit card required)
Monthly Plan Vyzer Plus – $36 per month (Billed monthly)
Annual Plan Vyzer Plus – $29 per month (Billed Annually)
Monthly Plan Vyzer Premium – $99 per month (Billed monthly)
Annual Plan Vyzer Premium – $79 per month (Billed Annually)
2. YNAB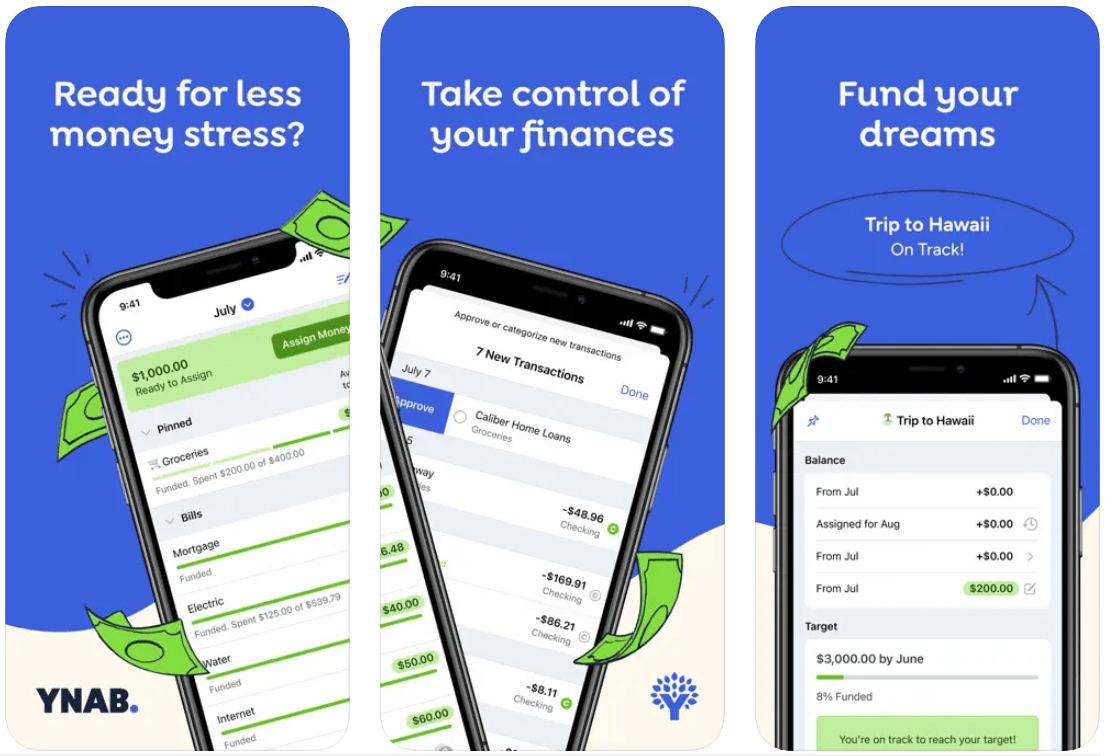 YNAB basically stands for 'You Need A Budget' and is a smart budgeting application available on the Web and both for iOS and Android. And if you are lazy enough, it even integrates well with your Amazon Alexa as well. Unlike Vyzer, you may find it quite basic, but it can help you manage your budget in a very efficient way. And the best part about it is its accessibility. No matter where you are or in whatever situation you might be, you can access your budget from anywhere anytime. Once you have installed it on your phone, you can even make your smartwatch talk about your budget if you need hands-free accessibility.
The app is basically known for its bank-grade security and world-class support. It has a simple setup and detailed budget tracking. More importantly, YNAB emphasizes putting every single penny into a job. Isn't that the ultimate principle to multiply your net worth?
The app is mostly useful for individuals who wish to keep track of their bank balance. With its outstanding features, you will be able to grow your net worth at an alarming pace. If used wisely, you will notice a change in the efficiency of your expenses. You start spending less than you earned, put your money in the right place to make more money for yourself and manage your overall budget. Although it is not meant for those having high net worth or complex portfolios, it is still a powerful basic budgeting tool.
Highlighted Features
Ad-Free
Bank-grade security
World-class support
Easy setup mode
Multiple money plans
Split transactions
Interactive widgets
Loan Calculator
Real-time budget reports by date filter
Track the growth of a specific account
Net Worth tracking
Pricing
Certainly, YNAB comes with a 34-day free subscription plan. Once your trial is over, you need to choose from either their monthly or annual subscription plan.
Monthly Plan – $14.99 per month + applicable taxes
Annual Plan – $8.25 per month or $99 annually
3. Mint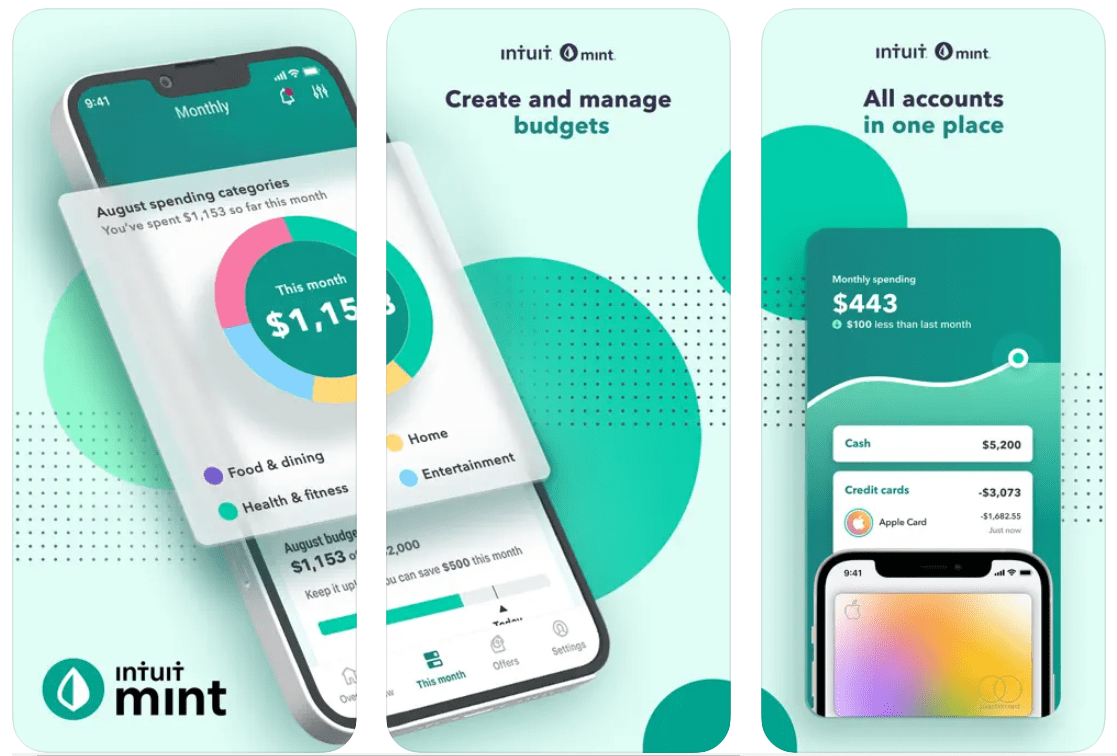 If it is just the beginning of your journey towards better financial stability, Mint is the perfect platform to begin with. Whether you are a student, employee, or running a business, Mint will help you grow better control of your financial habits. More often, as we go out shopping, partying, or traveling, we hardly keep an eye on our expenses and end up spending more than our budget. With Mint on your phone, you can now keep track of all your expenses.
This money management tool comes with specialized features to bring control over your expenses. Not only that, Mint also offers custom budgets, subscription tracking, and reaching your financial goals. It simply brings all yo ur money-related activities under a single roof. You can track your bank balance, net worth, monthly expenses, credit score, loans, and everything right from a single app.
Compared to other applications, Mint is a bit more simple, and hence, users can easily get used to its UI. Although you might think it is extremely basic to be among the best, it is actually a great option for different classes of individuals with limited portfolios and income.
Highlighted Features
Cash flow monitoring
Billshark bill negotiation
Personalized Mintsights
Better budgeting and expense monitoring
Free credit report
Tax refund tracking
Security Measures
Collects basic information (Name, Email, Phone number, Calendar)
All data is encrypted in transit
Users can request for data to be deleted
Pricing
Free to use, comes with in-app purchase
4. Empower
Next, we have an award-winning name on this list, Empower an astonishing finance management and net worth tracking app. Empower is basically known for its free world-class finance management tools that simply help you take one step closer to your goals.
Firstly, comes the dashboard of this app which allows you to connect all your financial accounts on a single screen. Even though it is completely free to use, Empower comes with a ton of highly enhanced tools to manage your wealth in the best possible way. For instance, its Investment Checkup Tool itself is an extremely powerful tool that allows you to access and analyze your entire portfolio, understand risks, check past performance, and lock your next financial target.
Apart from the various tools, Empower also offers different types of financial services to grow your net worth. While some of these services are available for free, others charge on a percentage basis. Since all these features maintain such distinction, Empower is a great app not only for newbies but also for individuals holding complex portfolios and huge net worth. Besides, you have access to their expert financial advisors 24/ 7. So, if you are stuck at any moment, there are advisors to lift you up in no time.
Highlighted Features
Free portfolio tracker
Personalized view of your finances
Integrated features for easier accessibility
Free finance reporting tools
24/ 7  support from expert advisors
Tax-loss harvesting
Automatic rebalancing
Net Worth calculator
Retirement Planner
Budget Planner
Investment Checkups
Financial calculators
Security
Multi-factor authentication
AES-256 encryption
Continuous Cybersecurity testing
Pricing
Free to Use
Percentage basis fee tiers on Wealth Management Services
5. PocketSmith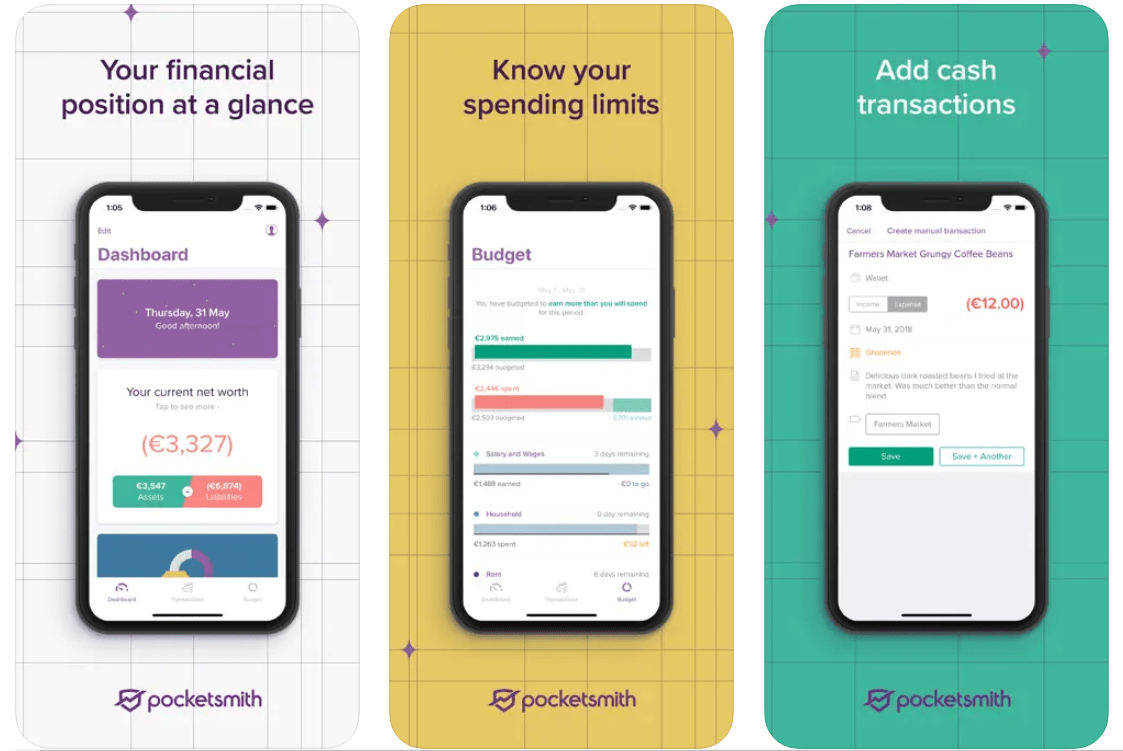 PocketSmith is another feature-packed financial management application available for iOS, macOS, Windows, Linux, and Android. This app provides some noticeable features that make you ready for regular net worth tracking and improve your financial wealth. PocketSmith basically focuses on current patterns to suggest ways to increase your net worth.
It provides you with a dedicated net worth tracking tool, an interest calculator, mint migration, a budget planner, and so much more. The best part of this application is no matter if you have your assets stored in multiple countries, PocketSmith will automatically convert all that data with real-time updates. You can add up to 14000 banks across the world. Simply import the data of all your assets and liabilities and the app will categorize them and display your net worth.
Interestingly, the app tracks down your earning and spending behaviors, analyzes the data, and provides you with future predictions on how you can better your records. More specifically, it can even show your net worth on a particular date at any time in the future by analyzing this data.
Highlighted Features
Helps you change your expense behavior for the better.
Organize your transactions.
Add notes to all your income and expenses.
Easily access your account balance.
Upload and categorize property and other documents in the form of images and documents.
Quick access to insights right on the dashboard.
Pricing
Free tier plan
PocketSmith Premium – $14.49
PocketSmith Super – $28.49
Note that this pricing may vary from region to region. So, in case, it shows a bit up or down, it is simply because of the region you live in.
Final Words
So, these were the best net worth tracking apps for iOS devices that are widely in use in 2023. The best thing that all of them share in common is the fact that each of them is getting new updates with time. Therefore, there are high chance that these apps will keep getting new features as time elopes. Besides, they offer sufficient features for individuals to keep proper track of their net worth and find better strategies to increase the count.
In the end, if you have a complex portfolio with a huge net worth, we advise you to go for Vyzer or Empower. Others can choose any one of these as per their requirements. So, if you think you have found the app you have been looking for, let us know which one really caught your eye.
If you've any thoughts on 5 Best Networth Tracking Apps for iOS, then feel free to drop in below comment box. Also, please subscribe to our DigitBin YouTube channel for videos tutorials. Cheers!