Note: DigitBin do not encourage the use of Pirate Streaming Sites, we are not affiliated with the services in any form. The data below is just for information purposes. Piracy is Cyber Crime, Buy Movies and Watch
FFMovies can be cloned proxy of FMovies which allows offers all the Movies and TV Shows from all across the globe for free. The Site directly Streams movies from torrents and other global sources. Therefore, you can expect movies right after they are released in CAM quality. The Site also offers movies in HD with subtitle support.
About FFMovies
A Proxy Clone of the Notorious Pirate Site FMovies which offers free movies and TV Shows for free. The site has categorized movies according to country, genre, popularity, etc. thus reducing the effort on finding any local stuff. As the service offers content without any licensing the site is blocked on a frequent basis but comes back by tweaking the URL.
---
Type of Site – Online Video Streaming
Owner – Unknown
Commercial – Yes
Domain Registrar – Unknown
Hosting – Cloudflare
Written in – HTML, JavaScript, and PHP
---
The site owner/s has made a private registration to hide his/her identity. The site is hosted on Cloudflare and uses a CDN network to deliver the content faster. Many companies have sued Cloudflare for providing hosting services to piracy sites but Cloudflare said that revoking CDN hosting to such sites won't stop piracy as the sites may switch to a different DNS network.
"If CloudFlare's services were completely unavailable to the allegedly infringing websites, those websites would still exist, and the infringements would continue unabated; the sites would merely load a bit slower and be more susceptible to hacking," said Cloudflare in a court document [PDF]".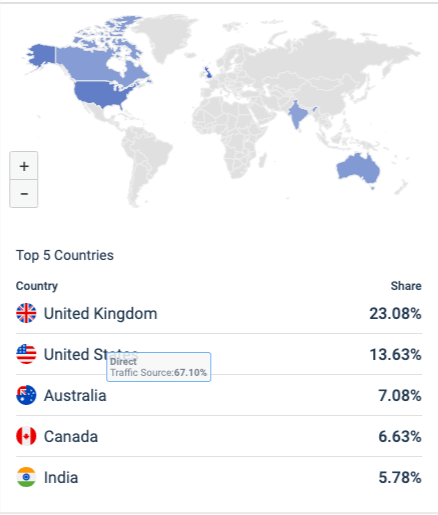 The site gets the majority of the traffic from the USA followed by the UK, Australia, Canada, and other English Speaking Countries. FFMovies get around 3 Million visits monthly and it is estimated that it makes around $20K/month taking its net worth to around $800k.
Why to Strictly Avoid FFMovies?
FFmovies is a bit of Gamble, because of the type and amount of content it provides. Like many unauthorized streaming sites which do not generally host the content on their servers. It works by indexing the streams through various means which include but are not limited to BitTorrent, magnet source, file hosting services, video streaming entities, pirate sites, and other similar streaming services
If you think a proxy or VPN is good enough to protect yourself then think twice. The federal agencies in your country may track your activity via IP Address, you may end up in jail. So it is better to avoid using pirate sites to access free content. The Internet is on Crackdown to remove all the websites which stream Movies and TV shows for free without any licensing.
The USA's Media Industry Loses around $27 Billion in Revenue Every year due to Piracy.
Watching illegal streams that do not have any authorization is a crime and you may end up in jail. Some countries have very strict litigations on the unethical online Movie and TV streaming, the accused and the perpetrator both may face the wrath of the judicial system.
Has Any Action Been Taken?
Google has been removing the URL from its search engine after multiple DMCA requests. The Site has been regularly under the government scanner for its activities.
In January 2018, the site was identified as a Notorious Market by the U.S. government, along with The Pirate Bay and other piracy sites.

FMovies was blocked in Australia in December 2018, after a request in August.

In February 2019, Sweden asked advertisers to blacklist some piracy and streaming sites, which included FMovies.

By April 2019, ISPs in India were ordered to block FFMovies, and the U.S. Government identified the site as one of the top piracy sites.
Source: Wikipedia
Will I Go to Jail for illegal Stream and Download?
Streaming illegal content is, of course, a punishable offense. But rules vary from country to country, some states have a very stern legislations while some may have nominal laws. Generally, the government attacks the publishers of the sites in an attempt to pull out the root cause. But it doesn't mean the users of the site can't feel the heat, as IP is public so is your activity, this is just enough for federal agencies of your country to penalize you. It is better if you distance yourself from the illegal watch.
Making unauthorized copies of copyrighted content is against the law and may subject you to civil and criminal liability. A civil lawsuit could hold you responsible for thousands of dollars in damages. Criminal charges may leave you with a felony record, accompanied by up to five years of jail time and fines up to $250,000.
Is there any Official Website of FFMovies?
The Service had an official website in the past but due to regular litigations and DMCA takedowns, the websites get shut. This does not stop it as the service again springs back with some different URL. Presently there is no official site but there are few mirror sites that offer the services. A proxy or VPN can still unblock any locked site. The developers of the site work in complete anonymity to avoid any lawsuit.
What Can the Copyright Holder Do?
If any of your work is published on the site you can directly contact Google. Make Sure you have legal proofs to support your claim. Google has provided an online portal where you can submit the form.
"Rightsholders can submit copyright infringement claims using our webforms. When we get a large number of valid notices for a site, our Search ranking algorithms demote that site. On average, 500 sites are demoted each week. Additionally, over 3 billion URLs that infringed copyright have been completely removed from Search".  Source Google
Can VPN Proxy Protect You?
No, A VPN Proxy may not be a very solid option. Federal agencies can still take note of your IP address to track you down. Your internet provider can tell what device was used for illegal streaming, a proxy is never a good option to mask your online activity. Though it can very much prevent the ISP's from tracking your activity, the government can still have access to your online activity.
Should I be Concerned About My Privacy?
Many online streaming websites on the internet are deceiving in nature and they just try to inject malware into your device. The free broadcast of copyrighted content cost billions of dollars to the entertainment media and film production industry. Production houses are raising voice against all the unethical online content providers.
Illegitimate websites are potentially harmful and malicious for your system and data, as they are capable enough to harass the privacy and collect sensitive information from your device. They use a number of trackers to collect all the sensitive data from your computer system.
What Content is Released by FFMovies?
FFMovies releases all the latest movies and tv shows. It mainly focuses on Indian content including regional Indian shows and Web Series. But you also get Hollywood Movies and Web Series from Streaming platforms like Netflix, Prime, Disney+, and more. It also hosts the latest released movies in a downgrade CAM quality. It hosts the videos on streaming torrents or video cloud platforms.
Best Legal and Free PRMovies Alternative
1. Vudu
This is another popular content delivery platform similar to Netflix but unlike Netflix a similar to FFMovies, it offers a number of movies and TV shows for free. All Vudu titles are true high definition in 1080 pixels, come with standard Dolby Digital Plus 7.1 surround sound.
2. Sony Crackle
The Crackle by Sony is a free online service available across 20+ countries that let you stream TV Shows and Movies online. Being a Sony Entertainment product you can expect a large number of movies from Sony Pictures. Sony Crackle has a bouquet of movies and has partnered with the number of big production houses.
3. Tubi TV
This free service is available globally and houses a bunch of movies and TV shows which is difficult for you to find elsewhere. With a library now surpassing 50,000 titles, second only to Netflix, Tubi TV is the best source of Movies and TV Shows. The site hosts thousands of Movies and TV Shows for all the age groups and that too without any subscription and as a necessity, it runs on Ads.
4. Crunchyroll
The Crunchyroll is a popular site with over 50 million monthly visits which primarily focuses on east-Asian content primarily on Anime, Manga Series, Music, and Shows. The site is solely made for all the anime lovers. The service has rights to popular Anime Series like Naruto, Dragon Ball, Titan, etc. The Crunchyroll is the one-stop destination for all the Anime Lovers and is much recommended as it is safe and legal.
Conclusion: FFMovies is known to be one of the most notorious illegal streaming sites. The site offers free movies and TV Shows embedded for streaming and free download. It is illegal to use FFMovies to stream movies and the local law agencies may crack you down causing legal troubles.