Google is stringent in keeping its products safe and secure from all sorts of rouge and malpractices. If Google notices some weird behavior with your account, then its servers will block the login, citing security and credential issues. If you use your Google Account to log in to various devices, then Google bots may find the behavior as potentially dangerous and thus may prevent you from logging in.
If Google can't verify that this account belongs to you, it will ask you a series of questions or offer recovery options that you previously set to help you recover your Google Account.
If you forgot your password or do not have any options to sign back into your account;
No Phone or Mobile Prompts
No mobile number
No Backup email
No Backup security codes
Then Google will block the sign with the message 'Couldn't Sign You in' and 'Google couldn't verify this account belongs to you.' Today in this guide, I will give you all the possible solutions to fix the issue of the Couldn't Sign in to Google Account issue. This guide will help you recover your Google account on a mobile device and web browser.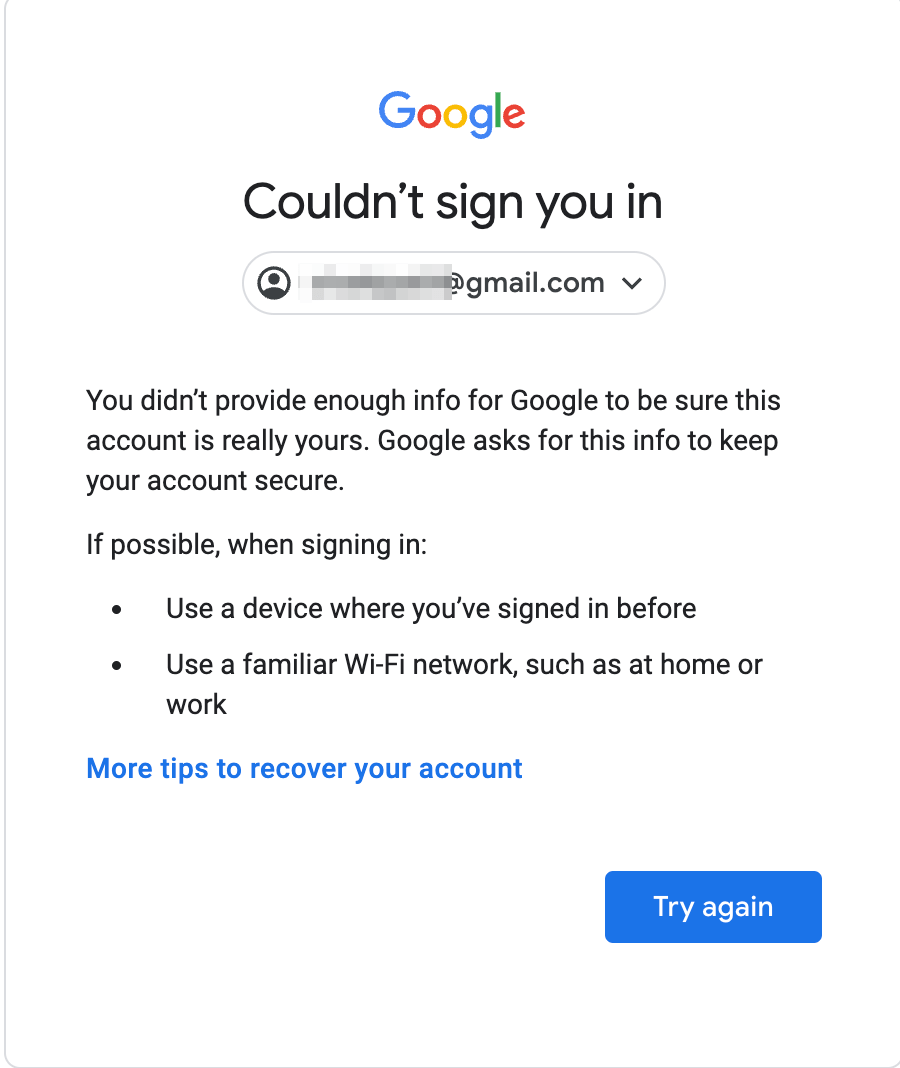 How to Recover Google Account?
Before we look deeper, ensure you have a good Data Connection. The recovery process is more likely to succeed from a computer or device recently used to access the account. If possible, attempt a recovery using the same device, preferably a PC on your regular WiFi network. Try the following for Google to identify your identity.
Ensure you use your home or work WiFi for Google to identify that you are the original account holder trying to access the account.
Use the same browser that you usually do, like Chrome or Safari. Avoid guest modes or private tabs.
If you're asked why you can't access your account, include helpful details;

You're traveling.
You get a specific error message.
You think your account was compromised because of malware or another reason.
You changed your password last week and can't remember it.
These steps help confirm that it's really you who's trying to recover your Google Account. This will help Google to provide more recovery options as it was possible for Google to identify that it's really you who wants access to your Gmail account.
Go to go.recovery.
Try to answer as many questions as possible when prompted. If you can't confidently remember the answer, don't worry; give your best guess.
Now, there are a few possibilities for account recovery that Google will try;


---

→ Google will send a Sign-in link to your mailbox within 6 hours. You can use that link to get back your account and set a new password. If you have access to your Gmail mailbox, then that should do the job. If you don't see the email after 6 hours, check your spam or junk folder. If you don't have access to your inbox, you may again try the recovery account feature after a few hours or a couple of days.


→ In some cases, Google will ask you for an alternative email for them to contact you; a Google employee will send a mail requesting further details like ID proof or similar information to ascertain the authenticity, and if everything goes well, you will be provided with a recovery link to get back your Google Account. This may time consuming process.


---

Google does not provide live support for Gmail, so you can not contact them for help with account recovery. But you can give it a try by contacting Google Ads, or Google Play contact support. Let them know that you want to run Paid Ads on Google search but your account is lost. There is a very bleak chance for them to help you recover your account, but if you can convince them, they may help you get back your Google Account.

Note: If your information is not sufficient to prove your ownership of the account, and if you can not recover the account using the provided process, your account may be lost. There are no other account recovery options available. If you find someone claiming to recovery your account for few bucks then you are in loose.
Helpful Resources
Conclusion: With the above methods, I can't guarantee that you will find the fix, but they are worth a try. Google generally uses cookies to check the device credentials. And if it finds something unusual, then you may get the sign-in error.
I hope the post was helpful. Do comment below for any assistance or support if needed. I also suggest you post your error with complete details of your device along with the root status below if you need some further assistance.
If you've any thoughts on Couldn't Sign You in: How to Recover Google Account?, then feel free to drop in below comment box. Also, please subscribe to our DigitBin YouTube channel for videos tutorials. Cheers!