Note: DigitBin do not encourage the use of Torrent Sites, we are not affiliated with the services in any form. The data below is just for information purpose. Piracy is Cyber Crime, Buy Movies and Watch
BT4G is a torrent search engine site that lets you get free magnet torrent links to download. The site is simple, you just need to search for the file you are in need of. The BT4G offers torrents files with Video, Audio, Doc, Software Apps, and other files. It is fairly a new service which has gained popularity very quickly.
Torrents for long have been the best source to download content for free. The most popular aspect of torrents is they are hosted on anonymous servers thus keeping the identity of the uploader safe. This makes torrents the media storehouse.
When you search for any file the results are categories as general/all, based on file size, relevance, and other parameters. Making it easy for you to get the files you are looking for.
About BT4G
BT4G is torrent search engines that work by searching out and listing sites hosting your desired torrent search and present it just like Google search Engine will present your search results. Taking down torrent sites regularly by the authorities for copyright issues was making it difficult for users to get torrent contents online. Which led to Torrent Search Engine Sites.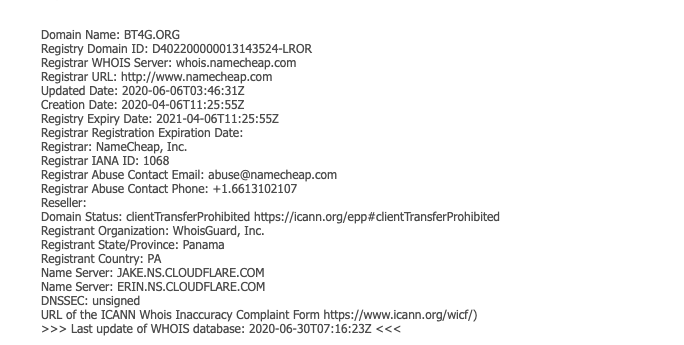 ---
Type of Site – Torrent File Hosting
Owner – Unknown
Commercial – Yes
Domain Registrar – NameCheap Inc.
Hosting – Cloudflare
Written in – HTML, JavaScript, CSS, and PHP
---
The site owner/s has made a private registration to hide his/her identity. The site is registered on Cloudflare in April 2020 and is hosted on Cloudflare and uses a CDN network to deliver the content faster. Many companies have sued Cloudflare for providing hosting services to piracy sites but Cloudflare said that revoking CDN hosting to such sites won't stop piracy as the sites may switch to a different DNS network.
"If CloudFlare's services were completely unavailable to the allegedly infringing websites, those websites would still exist, and the infringements would continue unabated; the sites would merely load a bit slower and be more susceptible to hacking," said Cloudflare in a court document [PDF]".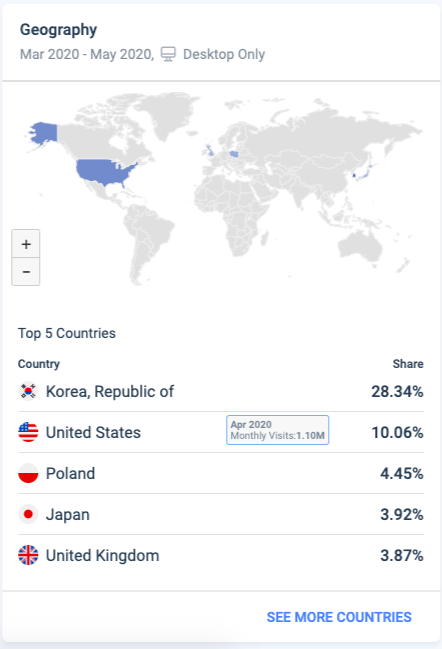 The site gets the majority of the traffic from South Korea followed by the US, UK, European Countries, Canada, and other English Speaking Countries.
Why to Strictly Avoid BT4G?
BT4G is a bit of Gamble, because of the type and amount of content it provides. If you think a proxy or VPN is good enough to protect yourself then think twice. The federal agencies in your country may track your activity via IP Address, you may end up in jail. So it is better to avoid using pirate sites to access free content. The Internet is on Crackdown to remove all the websites which stream Movies and TV shows for free without any licensing.
The USA's Media Industry Loses around $27 Billion in Revenue Every year due to Piracy.
Watching illegal streams that do not have any authorization is a crime and you may end up in jail. Some countries have very strict litigations on the unethical online Movie and TV streaming, the accused and the perpetrator both may face the wrath of the judicial system.
Is BT4G Safe, Any Action Taken?
No action has yet been taken on the site as it is very new, but the government is keeping an eye on the service and may take action in the near future. The torrent sites are under threat due to copyright issues.
Will I Go to Jail for Illegal Downloads?
Downloading illegal content is, of course, a punishable offense. But rules vary from country to country, some states have a very stern legislations while some may have nominal laws. Generally, the government attacks the publishers of the sites in an attempt to pull out the root cause.
But it doesn't mean the users of the site can't feel the heat, as IP is public so is your activity, this is just enough for federal agencies of your country to penalize you.
What Can the Copyright Holder Do?
If any of your work is published on the site you can directly contact Google. Make Sure you have legal proofs to support your claim. Google has provided an online portal where you can submit the form.
"Rightsholders can submit copyright infringement claims using our webforms. When we get a large number of valid notices for a site, our Search ranking algorithms demote that site. On average, 500 sites are demoted each week. Additionally, over 3 billion URLs that infringed copyright have been completely removed from Search".  Source Google
Can VPN Proxy Protect You?
No, A VPN Proxy may not be a very solid option. Federal agencies can still take note of your IP address to track you down. Your internet provider can tell what device was used for illegal streaming, a proxy is never a good option to mask your online activity. Though it can very much prevent the ISP's from tracking your activity, the government can still have access to your online activity.
Conclusion: BT4G is a torrent search engine site that lets you get free magnet torrent links to download. The site is simple, you just need to search for the file you are in need of.