Kinemaster is a very powerful Video editing tool for Android. The app is free to use and comes with a range of features making it a fully-featured video editing app on similar grounds to a PC video editor. Kinemaster is developed by NexStreaming Corp now Kinemaster Corporation. Kinemaster Mod APK is a simple yet powerful editor tool for Android which helps in creating some dazzling effects with the use of layers, transitions, voice envelopes, images, effects, and more. The app is simple to use and very powerful for creating deep edits.
Today in this post I will provide you with a KineMaster APK for your Android with the features fully unlocked and updated. We do not endorse the App nor are we affiliated with it in any form. This post and the download link are for personal use only. Kinemaster is the best mobile alternative to high-end computer editors. It does all the editing and mixing which you can expect from the computer software.
Note: I am not the developer of the App. I have only hosted the download links from globally available resources.
What is KineMaster?
KineMaster Apk is a fully-featured professional video editor for Android, supporting multi-layers of video, images, and text with state of the art cutting and trimming, you can have multi-track audio, volume envelope control, 3D transitions, Chroma key, animations, effects, VFX, and more for free.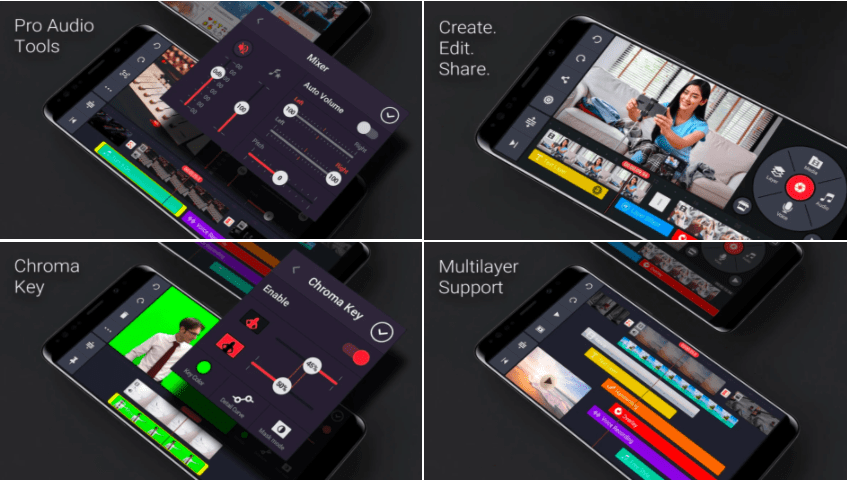 Features of KineMaster
Multiple layers of video, images, stickers, text, handwriting video clips
Frame-by-frame trimming, splicing, and slicing
Support All versions
Instant preview anytime
Hue, brightness, and saturation controls
Speed control for video clips
Fade in/fade out sound (overall)
Volume envelope (Precise volume control from moment to moment within a clip)
Transition effects (3D transitions, wipes, fades, and more)
A variety of themes, animations, and visual and audio effects
Supports all the video formats.
Automatically optimize the unsupported videos.
Is the App safe to Use?
There is no means of any 3rd party trackers or malware which could harness your privacy. The file has been scanned using various anti-virus Apps like Shield, Norton, Avast, and AVG. The file is also tested on the emulator and TurstGo Ad Detector App for any malicious nature. And from our test, we can assure you that the App is Safe to Download. To download the latest versions click the link below.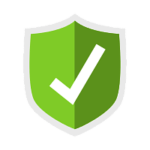 Secure Files Scanned and Tested
How to Download KineMaster?
Here are the simple steps to download and install KineMaster APK Pro.
Enable Unknown Sources in Android Security
Download the file from the download links available.
Locate the file and install the App on your device.
Open the App, make all the necessary settings if prompted on the screen. Done! Enjoy KM for free.
How to Install KineMaster on PC?
Though there is no standalone Kinemaster apk App for PC. But you can install the KM on your Windows and Mac PC. I will tell you how you can install Kinemaster on your system.
Here are Simple Steps to Download and Install Kinemaster on PC for Windows and Mac.
Download Emulator on your PC.
Install the Emulator, it will simulate an Android phone.
Now get the Kinemaster from the links above.
Install KineMaster on the Emulator
Open the App make necessary settings if prompted on screen. Done!
You can use the KM app on the computer to create great edits.
Fix other Miscellaneous Errors
Make sure App is granted with all the permissions; Settings → Apps/All Apps → Kinemaster App. Here grant all the permissions to the App.
Delete any previous version of the App if installed and also delete the storage folder file on your device.
You can also delete or Clear the Data and Cache of the App.
Turn OFF Data while using the App. Some features may not work if the App gets access to the internet.
Have enough internal memory & RAM space otherwise, the phone app may misbehave.
If the App is unable to index the media then I suggest you clear the cache of the phone in recovery mode. Google search to find how you can do that for your device.
Frequently Asked Questions (FAQ)
1. Can Kinemaster Be Used on PC?
There is not] standalone KM app for PC but you can try an Android emulator on your Windows and Mac PC to run the Kinemaster app for free and create your edits.
2. Is Kinemaster Free?
Yes, the app is free to use and comes with all the features. But you may need to make in-app purchases for some premium special effects and removing the watermark.
3. Does Kinemaster have a Watermark?
Yes, Kinemaster comes with a watermark on its projects. But you can pay and remove the watermark along with free assets from Kinemaster Store or download the Modified Version of the app.
4. How Do I Unlock Kinemaster Kinemaster Pro?
You can download the KM Counterfeit versions of the app or pay for premium and enjoy the app with no holds barred for free.
5. Is there a KineMaster Beta Version?
KineMaster Beta APK is not available as the developers do not release any beta or developer version of the app. They directly release the stable version.
6. What Video Formats does Kinemaster Support?
MP4 (H.264 Baseline/Main/High Profile + AAC LC / PCM)
3GP (H.264 Baseline/Main/High Profile + AAC LC / PCM)
MOV (H.264 Baseline/Main/High Profile + AAC LC / PCM)
7. Can Kinemaster Create Video layers?
Yes! KM allows creating video edits with video, image, text, animation, voice, audio, and gif layers. You can create a very professional video with Kinemaster.
8. Can you Export Video in HD/4K Quality?
Yes! KM lets you export video in HD quality that too without any extra payment. But the exported video has a watermark which you need to pay to get rid of.
9. Does Kinemaster Support Chroma Key?
Yes KM supports Chroma Key, you can select green screen to make some vibrant effects and edits similar to that in movies. Chroma key offers you the possibility to edit in VFX.
Conclusion: With the above download links you can download the Kinemaster APK with complete features like cutting, trimming, video layer, effects, transitions, and all other features fully enabled, etc. The KM is the most popular video editing App with video layer support.
Note: Do comment below if you find something missing or issues with the download links above. We do not endorse the App nor are we affiliated with it inform. Use the App for personal use only.
DMCA: DigitBin.com is in compliance with 17 U.S.C. * 512 and the Digital Millennium Copyright Act (DMCA). It is our policy to respond to any infringement notices and take appropriate actions. If your copyrighted material has been posted on the site and you want this material removed, Contact us.
If you've any thoughts on KineMaster – Video Editor, Video Maker by KineMaster Corporation, then feel free to drop in below comment box. Also, please subscribe to our DigitBin YouTube channel for videos tutorials. Cheers!