Lite Browsers Consume low data and power. Google Play Store hosts 100's of browsers for Android. Each Browser claims to be the best in the market offering features which state to be on the upper hand with respect to its counterparts. Big Browsers like Chrome, Edge, UC Browser, Firefox, and others consume a good amount of device space and power. These browsers may work good but they run at the expense of high power consumption which results in the loss of device performance
Lite Browsers consume low RAM, they generally compress the page and remove all unnecessary scripts which may eat the data thus reducing data consumption and increase the browsing speed. As lite browsers don't much rely on the system they eat low battery.
Today in this post I will tell you some of the best lightweight browsers for Android offering a great browsing experience on your android. These lite browsers work with low power consumption and offer some of the top features which may lack in a few popular browsers.
Best Lite Browsers for Android
Here are of Best Lite Android Browser to search the web with less storage consumption.
1. Via Browser
You can call this browser Little Dynamite. Via is an absolute beast of a browser for its small size. It handles desktop mode really well and is pretty clean and uncluttered. This little App has a default adblocker and also has features like night mode, customizable downloads feature, Incognito, Find on the page, and other useful tools. Via is one of the best and most underrated browsers out there which is getting some popularity sooner or later.
If you are looking for a lightweight Android browser with all features and smooth browsing then I recommend you to go with Via Browser.
2. Lightning Web Browser
Lightning is a simple, fast web browser that focuses on design, security, and efficiency. It uses material design, doesn't track you, gives you lots of options to protect your privacy. The browser engine is based on WebKit which powers Apple's Safari browser, so you can expect good speed.
Though there is no lightweight version of Chrome-like Chrome Lite, Lighting Browser has a design and look which makes feel like Chrome Browser. The App is very solid for its size and packs a punch of useful apps.
Download Lightning Web Browser | 2MB
3. Opera Mini

The list would be incomplete without the mention of Opera Mini. The age-old browser which powered java backed feature phones also for sure has a place for the Android system. The browser has all the features which you expect from a full feature Android browser.
The browser includes a built-in ad blocker, download manager, private browsing, video download support, and many other powerful features in this small piece of App.
You cannot get a better lightweight version of the App like Opera Mini which is developed by internet giant Opera Softwares offering top speeds and good credibility of privacy. I recommend this app if you are going to some web purchases and account saves.
4. Google Go

There is no any App like Chrome Lite developed by Google but if you wish to use Google Search with an ability to load results and pages quicker then you can try Google Go, a lightweight App alternative to Google App for Android. The App. You can go to voice search and load the pages easily.
The App also allows you to load the pages with Googleweblight for low consumption of data and very quick page load at slow internet speeds. The App is very lite for the work it does. It also works has some features of Google Assistance.
If you are looking for a solid App with a well-built design and top services then I recommend you to go with this App by Google.
5. UC Browser Mini
With over 100 million downloads the UC Browser Mini is one of the most popular lite browsers for Android. UC Browser Mini for Android gives you a great browsing experience in a tiny package. It's a lightweight browser especially useful to users of Android phones with lower specs and less storage space but still packed with great features.
Features of UC Browser Mini
Navigation Cards
 Fast Browsing
 Smart Downloading
Incognito Browsing
Night Mode
Data Saving
Download UC Browser Mini | 3 MB
6. Dolphin Zero Incognito Browser

Dolphin Zero is an ultra-lightweight browser with only 500K app size. The Browser is a default private browser and doesn't store any browsing history, passwords, data, etc.
Features of Dolphin Zero
Flash player
Adblock (pop up blocker)
Multiple tabs bar
Bookmarks & Add-ons sidebar
Incognito/private browsing
Personalized search
Fast download
I recommend download Dolphin Browser to surf the Internet with great features including Adblock, incognito browsing, gesture, sonar, and flash player in the browser.
Download Dolphin Zero | 500 KB
7. Yandex.Browser Lite
Yandex Browser Lite by a Russian internet company helps you save space on your smartphone.
With Yandex Browser Lite you can:
Browse quickly, and save on your phone's battery power and storage
Find what sites you need or ask Yandex questions with the SmartBox search bar.
Go to your most visited sites from visual bookmarks from your main screen's Tableau.
View a feed of stories, news, and videos based on your interests thanks to Yandex Zen technology.
Easily clear the cache and cookies right in Settings.
Store Yandex Browser Lite-on either your memory card or your device.
8. Internet: fast, lite, and private
The Internet is a web browser by internet giant Amazon. Internet app is a default private browser. It doesn't ask for extra permissions or collects your private data like other browsers.  The websites you visit are not recorded on your phone. Internet blocks all types of trackers and ads. Also, the trust of Amazon on the backdrop makes your data more secure.
9. Aloha Browser Lite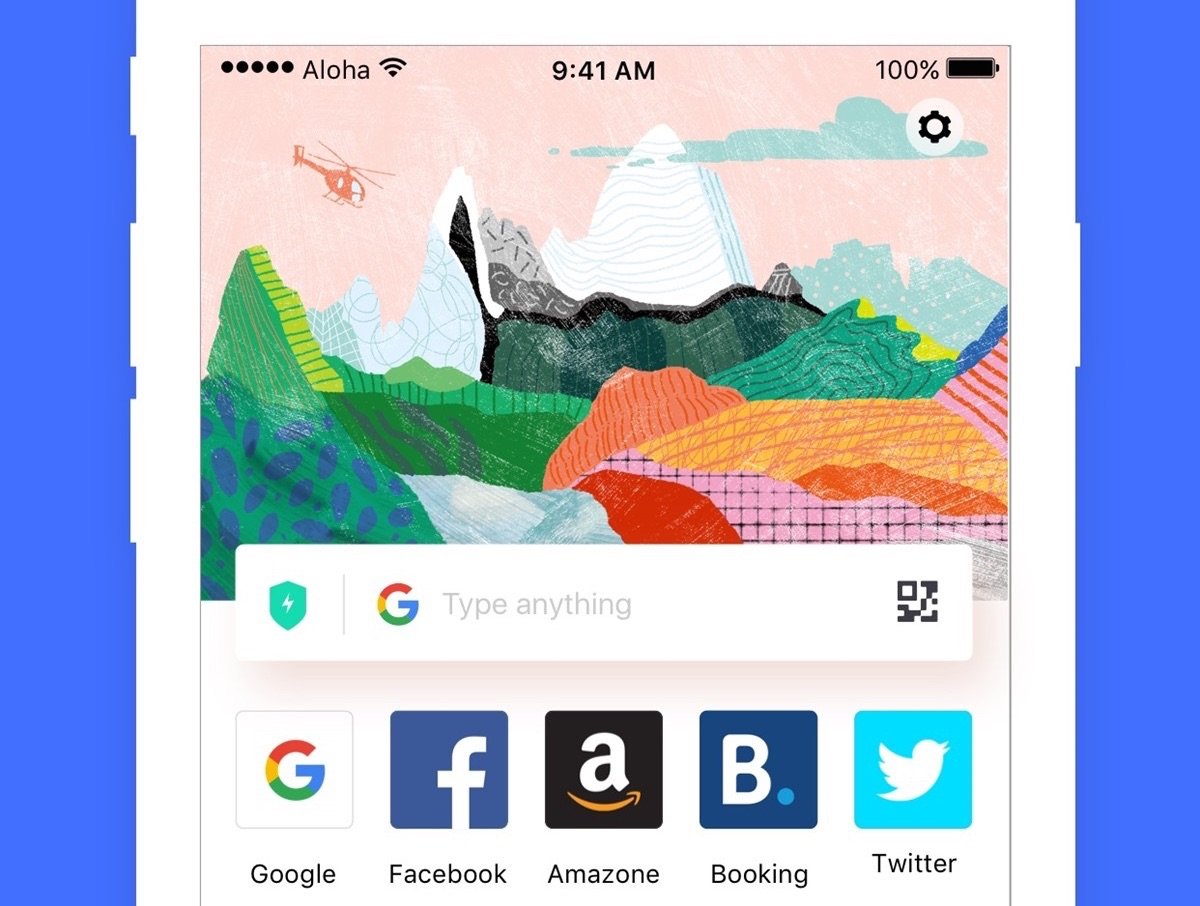 Aloha is a WebKit based lightweight browser. It also uses hardware acceleration displays to speed up the page load. The browser is integrated with a free VPN and compresses the web page. The Browser also has a built-in ad-blocker along with while trackers protection.
You also get a media player to stream videos. Download media, and content to save your videos, music, and pictures and lock private folders with a passcode or fingerprint.
10. Firefox Lite
Firefox Lite is a lightweight version of the Firefox browser. It features Turbo Mode for quick loading, ad blocking, and page compressing. You can save the page offline and read them later with a single click on the toolbar. The browser also blocks trackers that keep a collect the data. There is also a night mode to protect your eyes and for comfortable reading. Parallel file download is also supported.
Download Firefox Lite | 3.5 MB
11. Mint Browser
Mint Browser is a reliable and fast browser developed by Xiaomi. It is one of the best web browsers for Android phones offering great speeds, browsing privacy, and security within the small package size. The app has a dedicated download manager for fast-paced content downloads.
The download engine auto-detects a downloadable video if present on the web page and display the download button in case if you want to grab the video. Mint comes with all other basic functions like Ad-Blocker, Incognito mode for private browsing, Night Mode for eye, and Data saver. If you are looking for a clean and fast alternative to your existing browser then featured-packed Mint by Xiaomi is the best.
12. Hermit Lite
Hermit Lite is a feature-rich mini-sized browser for mobile. If you are using a low-end Android device or want to minimize the storage and battery usage then this browser can come in very handy. The browser converts the websites into web apps that you can access on your mobile without installing any native app from the play store.
The browser also has good speeds and offers AdBlock, JS block, privacy mode, and other popular features on the app.
Conclusion: With the lite browsers you can surf the internet with low data and phone power consumption and which run with a smooth interface. The list sums up a comprehensive list of lightweight browsers for Android.
I hope the post was helpful. Do comment below for any assistance or support. I will update the list so do subscribe to the DigitBin Newsletter.
If you've any thoughts on Best Lightweight Browsers for Android | Lite Web Browsers, then feel free to drop in below comment box. Also, please subscribe to our DigitBin YouTube channel for videos tutorials. Cheers!